Luxor 32" x 18" 2-Tub Shelf Utility Carts
Shelf Dimensions: 32"W x 18"D
No. of Shelves: 2
Clearance Between Shelves: 22.5"
Maximum Weight Capacity: 400 lbs (evenly distributed)
Product Description
These Luxor 32" x 18" 2-Tub Shelf Utility Carts are constructed to be reliable while carrying up to 400lb weighty loads. The shelves are made of a material known for its incredible strength to density ratio (HDPE), assuring that each cart is durable without being bulky or cumbersome. The molded plastic 2.5″ deep tub shelves and legs will never rust, dent, scratch, or stain. The ergonomic push handle easily guides the service cart amid indoor and outdoor environments. Use locking brakes when your heavy load needs to remain stationary. These Luxor 32" x 18" 2-Tub Shelf Utility Carts comes with 4″ full-swivel casters and 100% made in the USA.
Product Details
Multipurpose utility cart ideal for use as serving or storage cart, garden wagon, and more.
Shelves and legs are constructed with an injection molded thermoplastic resin, which will not stain, scratch, dent or rust.
Measures 35.25"W x 18"D x 34.25"H with a clearance between shelves of 22.5" for easy access.
Includes two 2.5" deep tub shelves.
Ergonomic push handle molded into top shelf.
Rolling cart with four 4" full swivel casters, two with locking brake.
Maximum weight capacity of 400 lbs (evenly distributed).
Assembly required .
Made in the USA.
Lifetime Warranty.
Item Specifications
Color: Black or Gray
No. of Shelves: 2
Clearance Between Shelves: 22.5"
Maximum Weight Capacity: 400 lbs (evenly distributed)
Dimensions (W x D x H): 35.25" x 18" x 35.5"
Warranty: Lifetime Manufacturer Warranty
Demonstration Video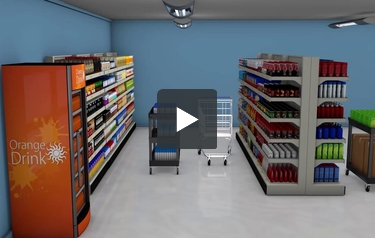 Luxor/H. Wilson - E-Series Carts Made In The USA Video
Transcript:
E-series carts are available in black or grey with two or three top shelves, both have a five hundred pound weight capacity with standard four inch stem casters and a five hundred capacity with the optional five inch play casters. The E-series carts have a an overall length of thirty five and a quarter inches and they
E-series carts are available in black or grey with two or three top shelves, both have a five hundred pound weight capacity with standard four inch stem casters and a five hundred capacity with the optional five inch play casters. The E-series carts have a an overall length of thirty five and a quarter inches and they