Max Light Effort White Compact Flat Clinch Stapler - HD-10FL-WH - Clearance Sale
1.77
NewCondition InStock
Max Light Effort White Compact Flat Clinch Stapler - HD-10FL-WH - Clearance Sale
Product Description
Take a look at this new compact flat clinch stapler. It may be small, palm size actually, but it can staple 2 to 20 sheets of paper with light effort thanks to its ergonomic styling. If white is not your thing or you're looking for a little color in your world, this handy little stapler also comes in red, blue and light green. It holds you to 100 staples and has a viewing slot to make it easy to check the number of staples.
Product Details
Color:White
Stapling Capacity:20 Sheets
Load Capacity: 100 Staples
Recommended Staples:MAX 10-1M, MAX 10-5M
Palm-sized, compact size
Weight: 0.5
Part Number: MAX HD-10FL-WH
Warranty:1 year on parts and 90 Days on labor
Demonstration Video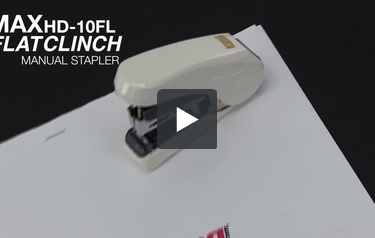 Transcript:
Welcome to MyBinding video. Let's take a look at the MaxHD-10FL, a Flat Clinch Manual Stapler. In reality, it's just a stapler with a built in stapler remover but it looks pretty cool and you know, it works well. Line the jaws up just right where you want them and push it down. Works great on a desk and in the hand. Staples up to 20 sheets of 20 pound paper and built in stapler remover just slide it right up through a mistake and you're on your way. Loading is simple, number 10 staples, open the top, place them in, close the top, snap it down and you're on your way. And that's the Flat Clinch ...
Read More
Welcome to MyBinding video. Let's take a look at the MaxHD-10FL, a Flat Clinch Manual Stapler. In reality, it's just a stapler with a built in stapler remover but it looks pretty cool and you know, it works well. Line the jaws up just right where you want them and push it down. Works great on a desk and in the hand. Staples up to 20 sheets of 20 pound paper and built in stapler remover just slide it right up through a mistake and you're on your way. Loading is simple, number 10 staples, open the top, place them in, close the top, snap it down and you're on your way. And that's the Flat Clinch by Max. For more demos, reviews and how to's check out MyBinding.com