SealerSales CS-6050 Semi-Automatic Carton Sealer for Taller Cartons
2168.59
NewCondition InStock
SealerSales CS-6050 Semi-Automatic Carton Sealer for Taller Cartons
Product Description
This SealerSales CS-6050 Semi-Automatic Carton Sealer is operator fed and designed for taller cartons and heavy duty applications. This carton sealer is reliable, cost-effective, durable, and provides a professional looking seal. It has a 4-belt design ( 2-top and 2-bottom) for manual carton size adjustment. It comes complete with infeed/exit conveyors, casters, power cord, and plug. The CS-6050 is very easy to operate, simply fold the top flat of the corrugated carton and feeds it into the machine. This machine applies a single tape to both the top and bottom of the case simultaneously. This SealerSales CS-6050 Semi-Automatic Carton Sealer can be easily adjusted in only seconds to process a different size carton.
Product Details
Adjustable height of table.
Heavy duty frame.
Manually adjust height and width of machine for each box size.
Suitable for taller cartons.
Up and down driving.
Operator feeds and folds flaps into machine.
Optional: Stainless Steel.
Item Specifications
Length: 6" to Infinite
Width: 6.3" Min to 19.7" Max
Height: 5.9" Min to 23.6" Max
Machine Size: 69"L x 32"L x (38" - 63")H
Machine Speed: 65.6ft./min Up to 15 Cartons per minute production rate depends on carton size and operator dexterity
Electrical: 110V, 1 Phase, 10 AMP
Weight: 400LBS
Max Box Weight: 75LBS
Tape Head Specs: 2"(48MM) Wide - 1,000 Yard or 1,500 Yard Rolls
Demonstration Video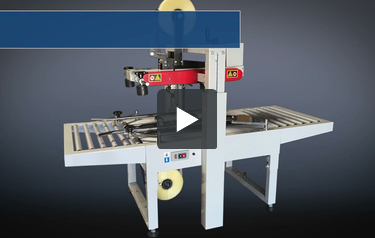 CS-6050 Semi-Automatic Carton Sealer Demo
Transcript:
CS-6050 Semi- Automatic carton Sealer. Features: easy to operate, apply tape uniformly, includes infeed and conveyor rollers, equipped with locking casters for ease of movement. Up to 1,500 cartons/hour. Carton size: width- 7" min to 19" max, height- 6" min to 23"max. Adjust for the width of the box – the width adjustment knobs will move uniformly. Adjust the height of the box using the height adjustment crank. Adjust the top flat compression rollers to ensure box is secure. Place box on conveyor
CS-6050 Semi- Automatic carton Sealer. Features: easy to operate, apply tape uniformly, includes infeed and conveyor rollers, equipped with locking casters for ease of movement. Up to 1,500 cartons/hour. Carton size: width- 7" min to 19" max, height- 6" min to 23"max. Adjust for the width of the box – the width adjustment knobs will move uniformly. Adjust the height of the box using the height adjustment crank. Adjust the top flat compression rollers to ensure box is secure. Place box on conveyor