Self Stick 7" White Double-Wing Easel Backs - 25pk
21.59
NewCondition InStock
Self Stick 7" White Double-Wing Easel Backs - 25pk
Product Description
These self-stick double-imaged easels affix to the back of pouch boards or mounting boards to produce quick, easy retail countertop displays, retail free-standing displays, art displays, point of purchase signs, etc. Simply affix a self seal easel to a completed pouchboard.
Product Details
Product Type: Self Stick Easel Back
Size: 7" High
Quantity: 25 Pieces
Part Number: SO7DE
Demonstration Video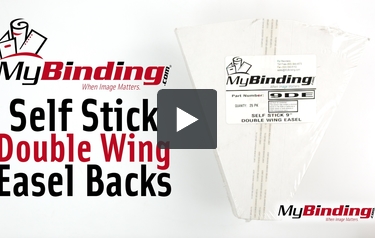 Self Stick 7" White Double-Wing Easel Backs - 25pk
Transcript:
Welcome to MyBinding Video. These are the Self Stick Double Wing Easel Backs from MyBinding. Turn any mounting board or laminated page into a free standing display in just a couple steps. I found it was easier to set up the easel back, then adhere it to the sign. Just pop out the round part, and fold the wing sides back and it should snap into place. Then set your signage face down, remove the adhesive liner, and adhere to the back of your sign. Its as easy as that and you have a free standing sign perfect for countertops. They're available in 7" and 9" tall, both in packs of 25. For more vide ...
Read More
Welcome to MyBinding Video. These are the Self Stick Double Wing Easel Backs from MyBinding. Turn any mounting board or laminated page into a free standing display in just a couple steps. I found it was easier to set up the easel back, then adhere it to the sign. Just pop out the round part, and fold the wing sides back and it should snap into place. Then set your signage face down, remove the adhesive liner, and adhere to the back of your sign. Its as easy as that and you have a free standing sign perfect for countertops. They're available in 7" and 9" tall, both in packs of 25. For more videos and all your binding needs, visit MyBinding.com