Wilson Jones 1" Semi-Rigid ACCOHIDE Ring Binders
Wilson Jones 1" Semi-Rigid ACCOHIDE Ring Binders
Colors available are dark blue, blue, red, and forest green.
1" binder hold 200 sheets of 20lb paper.
Back mounted rings.
Lightweight, semi flexible and tear proof.
Product Description
These Wilson Jones Black Semi-Rigid ACCOHIDE Round Ring Binders offer the ultimate durability in binders. These Flexible ACCOHIDE Binders are lightweight, flexible, and tear-proof to fit all the demands of a student or professional constantly on the go. Equipped with back-mounted Round Rings, matte finish covers, and semi-rigid and tear-proof material, these Wilson Jones Black Semi-Rigid ACCOHIDE Binders allow you to keep everything organized without worrying about damaging your documents. Stay organized and fashionable with these binders today.
Product Details
175 sheet capacity in 1 inch binder size
Eco-friendly, PVC Free polypropylene material is tear resistant
Semi-rigid, 35 pt. construction
Matte finish
Item Specifications
Binder Type: Specialty
Cover Type: Opaque
Detailed Color: Choose Above
Material: Semi-Rigid Polypropylene
Ring Size: 1"
Ring Type: Round
Sheet Capacity (20 lb paper): 175
Demonstration Video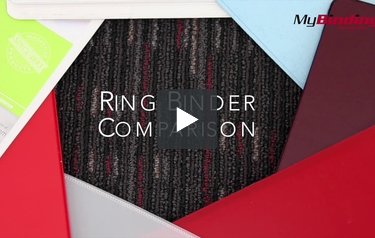 Transcript:
Welcome to MyBinding video. This is a ring binder comparison and hopes to help you decide which type of binder is best for you. We?ll be showing you 7 different types of Wilson Jones and Acco binders. First is the clear translucent Poly Binders. This is a flexible 3-ring see through binders and it?s got 2 pockets on the inside. It?s not impossible to fit an 8
Welcome to MyBinding video. This is a ring binder comparison and hopes to help you decide which type of binder is best for you. We?ll be showing you 7 different types of Wilson Jones and Acco binders. First is the clear translucent Poly Binders. This is a flexible 3-ring see through binders and it?s got 2 pockets on the inside. It?s not impossible to fit an 8