3" x 5" Photo Size Sticky Back Laminating Pouches - 100pk
5, 7, and 10mil thickness available
Enhances all text and colors
Includes carriers
Seals and protects documents
Product Description
These 3" x 5" Photo Size Sticky Back Laminating Pouches are sometimes referred to as adhesive backed laminating pouches or self adhesive laminating pouches. You simply insert your material into the pouch and run it through your laminator (like any other laminating pouch). Then, when you are finished you peel the release liner off the back of your laminated document and stick it wherever you need. These Sticky Back Laminating Pouches pouches are ideal for signs, posters and point of purchase displays.
Product Details


Type: Adhesive Backed Laminating Pouch
Size: 3 x 5 Photo Size (3-1/2" x 5-1/2")
Thickness: 5mil, 7mil or 10mil
Quantity: 100 Per Box
Corners: Round (1/8" radius)
Demonstration Video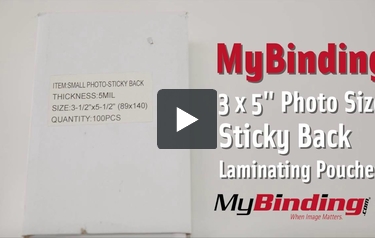 3 x 5 Photo Size Sticky Back Laminating Pouches
Transcript:
Welcome to MyBinding.com. These are the 3x5" Photo Size Sticky Back Laminating Pouches.

These laminating pouches from MyBinding make a great accent to signs, posters, point of purchase displays or anywhere else you need to draw someones eye. Take your picture or document, align it inside the laminating pouch, set the pouch inside the protective sleeve, and insert into your pouch laminator. They come in five, seven and ten mil thickness depending on the rigidity and protection you require. Make sure to use a laminator that can properly fuse the thickness you choose. Then peel the release lin ...
Read More
Welcome to MyBinding.com. These are the 3x5" Photo Size Sticky Back Laminating Pouches.

These laminating pouches from MyBinding make a great accent to signs, posters, point of purchase displays or anywhere else you need to draw someones eye. Take your picture or document, align it inside the laminating pouch, set the pouch inside the protective sleeve, and insert into your pouch laminator. They come in five, seven and ten mil thickness depending on the rigidity and protection you require. Make sure to use a laminator that can properly fuse the thickness you choose. Then peel the release liner off your laminated document and stick it to whatever you need. The high quality material ensures no damage will come to your photo or document, and the strong adhesive will keep it stuck securely.

For more videos and all your binding needs, go to MyBinding.com
Specification
| | | | | |
| --- | --- | --- | --- | --- |
| Part Number | Size | Corners | Thickness | Quantity |
| LKLP5PHOTO3X5A | 3-1/2" x 5-1/2" | Round (1/8" radius) | 5mil | 100pk |
| LKLP7PHOTO3X5A | 3-1/2" x 5-1/2" | Round (1/8" radius) | 7mil | 100pk |
| LKLP10PHOTO3X5A | 3-1/2" x 5-1/2" | Round (1/8" radius) | 10mil | 100pk |