Binding Machines
Binding Machines
At MyBinding, shopping for a binding machine online is easy. We offer the full selection of book binding systems for every style of bind, including coil, comb, wire, thermal, velo, and much more. No one knows more about document binding than us, and we're happy to help guide you to the perfect fit for your unique needs if you call us at
800-944-4573.
.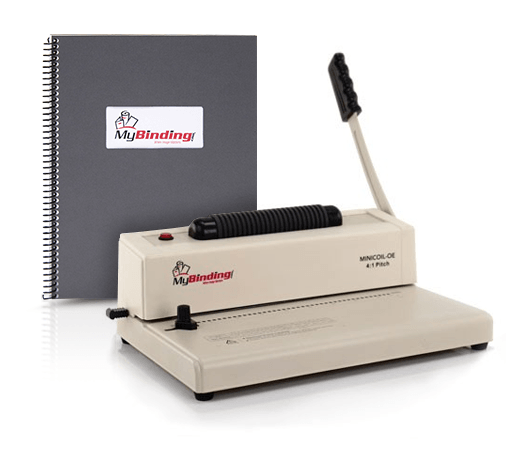 Modular

Systems

Modular binding machines offer the ultimate versatility, allowing you to change out the die and accomplish various punching patterns for different binding styles with one machine.
Shop by

Application

Shopping for a binding machine based on the intended application is a great way to choose the best binding machine for your unique needs.
Binding
Accessories
Choose from a variety of binding machine finishing systems, storage and workstation carts, and more in our binding machine accessory categories below.
All Binding
Machines
Didn't find what you need above? Browse our entire collection of binding machines in every binding style below.
Shop by
Brand
MyBinding is partnered with the best binding machine brands on the market, like Coverbind, Rhin-O-Tuff, Fellowes, GBC, and more. Browse binding machines by-brand by clicking the logos below.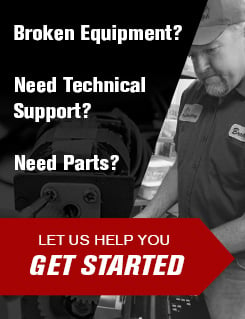 Choosing Your
Binding Machine
Binding machines make it easy to create presentation materials for both internal and external use. The tricky part can be selecting the correct machine for your finishing needs. View AllWhen choosing a specific binding style, it's important to consider not only the available options but also your specific usage. Do you need a basic bind for internal reports? Does your document need to be easily edited? Do you need a professional look? Does the bind need to allow your materials to lay flat? Will you need to mail the finished documents? How important is security? How many pages will you need to bind? These are just a few of the things you'll want to keep in mind when shopping for a binding machine.
Now let's take a closer look at your options.
Plastic comb: This is by far the most popular bookbinding method, often seen in schools, libraries, and other offices. Quick and simple, comb binding offers a basic closure for documents up to 425 pages that can lay flat for reading or photocopying. The supplies are available in a large variety of sizes and colors and can be personalized with a name, logo, or both. Comb binding is ideal for those looking for a quick cost-effective way to bind items that don't need staying power or an overly professional look.
Color coil or spiral: This is another popular method and it is used for marketing materials, reports, and more. The coils come in more than 50 different colors. With a large selection of colors, it is really easy to find supplies that will complement your work. This style is a good choice as well as you can mail them and they will stay in shape. You can bind work up to 440 pages long with this method. The one unfortunate drawback with this method is that it can be tricky to bind longer documents. Of course, the more you do it, the easier it will get.
Twin-loop wire: This is a great method to use if you need your documents to look professional and presentable. Wires come in a handful of colors including silver and bronze. Two hole patterns are offered and the one utilize depends on the size of the wire you are using. Spines ranging in diameter from 3/16? to 9/16? use a 3:1 hole pattern (three holes punched per inch) and can bind items containing 110 pages or less. The others use a 2:1 pattern and are 5/8" to 1-1/2" thick. These supplies are for documents that are 125 to 250 pages. The one drawback to this method is that the wires can be crushed in the mail. Be sure to consider this if you're going to need to send your work to someone. Other than that, they offer a sturdy, minimalistic bound look.
Thermal: This form is perfect for documents requiring a highly polished look. Once you have the equipment, all you need to do is place the pages in either a hardback or paperback cover and stick the book in the machine. The heat inside the device will cause the adhesive to melt a bit, securing the pages. The covers can be used with documents containing up to 500 pages. Covers can be customized, making this method perfect for yearbooks, anthologies, and anything else requiring a polished look. Keep in mind that this thermal binding is more expensive that the other methods listed in this article. However, the results are usually worth the cost.
Fastback: Fastback, from Powis Parker, offers a sleek and slim finish, which is ideal for mailing, storage, and stacking. Documents secured by Fastback binding have a professional perfect bound look to them. This is one of the fastest methods available. It's also an eco-friendly form of binding from a green company, Powis Parker. And when it comes to the processes, it is easy-to-use for everyone—just insert the strips and your documents into the machine and press start! Fastback offers extra versatility, allowing you to complete tape binding, perfect binding, and photo book binding styles in a single machine. The supplies needed come in both hard and soft back options with a wide selection of sizes, colors, and textures. It's one of the easiest ways to produce impressive and unique results.
Combination: These machines are a great tool to have around if you need to put together both internal documents and presentations for clients. They offer different binding options combined into one machine. They tend to be more expensive, but they are perfect for busy offices with wide varieties of uses. These machines come in several combinations, allowing you to efficiently utilize two different binding styles in one easy machine.
VeloBind: If you're looking for security, this new and innovative style of binding will keep your documents secure and un-editable. They have a strong, durable spine that gives your documents a minimal look—very professional! They are commonly used in accounting offices and law firms, but can be applied to any bound document. There are also 4-pin spines, which can be edited—but must be replaced with new spines. They can bind together up to 750 pages. If security is your main priority, you can rest assured that these will do the trick. The only disadvantage to VeloBind is that your materials cannot lay flat. Be sure to leave a wide enough margin to not occlude any of your document and you'll have a beautiful book.
ProClick: Binding with GBC ProClick machines and spines will give your document a finished, professional look. Plus, documents bound in this style allows for easy editing. They have security and style all in one. These spines hold up to 125 sheets of paper and can be folded over 360 degrees, perfect for photocopying and easy handling. And if you have a 3:1 pitch wire binding machines, these spines fit. The main use for this style of binding is for easy, on-the-go editing.
Other: Finally there are non-punch styles of binding. They include stapling, metal binding, metal binding rings, and screw posts. Staplers are typically used for on-the-go binding and for smaller projects. Metal binding involves clamping large documents with a tough metal spine—no punching or gluing required. Metal binding rings and screw posts just need a hole punch to put your work together. Screw posts offer a simple, minimalistic look with a secure hold. And metal binding rings are great for laminated or high-usage for point of purchase. They can also be folded 360 degrees for easy use.
With all these options, you are sure to find one offering the style you need at a price that fits your budget. Still have more questions? Give us a call and we'll be happy to talk you through your selection and help you find the right machine for you. Less
Read more