35 Gauge White 5.5" x 8.5" Poly Round Ring Binders - 100pk
35 Gauge White 5.5" x 8.5" Poly Round Ring Binders - 100pk
Ring Type: Round Ring
Ring Size: 1/2" - 2"
Color: White
Binder (Material) Thickness: 35 Gauge
Product Description
These White 35 Gauge 8.5" x 5.5" Round Ring Poly Binders are made from durable high density polyethylene plastic that is waterproof, tear proof and chemically resistant. These binders have a wonderuful and vibrant White color matte finish. These poly binders can hold approximately 100 - 480 sheets of 20lb half size paper and are easy to open and close. Designed for applications where you need an awesome look for a great price, these poly binders are ideal for event planning seminar materials, employee training manuals, home office filling systems, corporate sales/training presentations, medical/healthcare records, table menu covers, hotel guest information materials and so much more. If you want, you can fully customize these binders by adding sheet lifters, binder pockets or have your company logo imprinted on them. Or buy them plain and customize them yourself with labels. Although these particular binders are White, we also carry a number of other colors including Black, Yellow, Royal Blue, Red, Maroon, Green. These binders are sold in quantities of 100 each. However, if you are looking for more than 1000 binders please feel free to give us a call to discuss your project and for a quote.
Product Details
Three ring metals include opening and closing boosters.
Standard White Rivets (White and Nickel color options are available upon request at no additional cost).
Made of durable high density polyethylene plastic.
Accomodates 8.5" x 5.5" half size paper.
Item Specifications
Binder Type: Poly Binders
Ring Style: Round Ring
Ring Material: Metal
Ring Size: 1/2" - 2"
Binder Dimension: 8.5" x 6"
Sheet Capacity: 100 - 480 Sheets of 20lb Paper
Binder (Material) Thickness: 35 Gauge
Quantity: 100 Binders
Color: White
Demonstration Video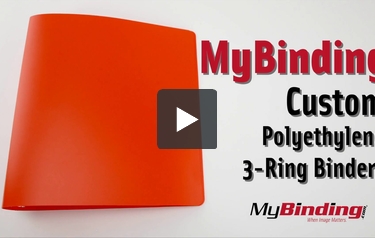 Custom Poly Ring Binders
Transcript:
Welcome to MyBinding.com. These are the Custom Poly Ring Binders from MyBinding.

Protect your files and enhance the appearance of your presentations, manuals, and reports with these tough, sleek Poly Ring Binders. They're made from high density, 55 gauge polyethylene plastic, which means they'll protect your documents from spills, chemicals and tears. They're flexible and extremely durable. You can choose from 8.5x11" full size or 5.5x8.5" half size and .5" to 2" thickness. These binders are available in many different colors and we can custom print your company name, or whatever you want o ...
Read More
Welcome to MyBinding.com. These are the Custom Poly Ring Binders from MyBinding.

Protect your files and enhance the appearance of your presentations, manuals, and reports with these tough, sleek Poly Ring Binders. They're made from high density, 55 gauge polyethylene plastic, which means they'll protect your documents from spills, chemicals and tears. They're flexible and extremely durable. You can choose from 8.5x11" full size or 5.5x8.5" half size and .5" to 2" thickness. These binders are available in many different colors and we can custom print your company name, or whatever you want on the front and back covers. Make seminar materials, training manuals, filing systems, presentations, or record keeping simple, effective, long lasting and good looking with your Custom Poly Binders.

For more videos and all your binding needs, go to MyBinding.com