Arm Band Vertical Vinyl Badge Holder w/ Zipper Closure - White Strap - 25pk
117.79
NewCondition InStock
Arm Band Vertical Vinyl Badge Holder w/ Zipper Closure - White Strap - 25pk
Product Description
MyBinding.com's 3-3/8" x 2-3/8" vertical vinyl badge holder arm band with white strap will keep your ID card secure with a zipper closure. It's ideal for active personnel because the 3-3/8" x 2-3/8" badge holder won't slip off clothing and the white strap flexes with arm movement. Get 25 with every order. Product number MYBP504ARZW.
Product Details
Type: Badge Holder
Color: Clear
Strap Color: White
Orientation: Vertical
Size: 3-3/8" x 2-3/8"
Quantity: 25 pieces
Part Number: MYBP504ARZW
Demonstration Video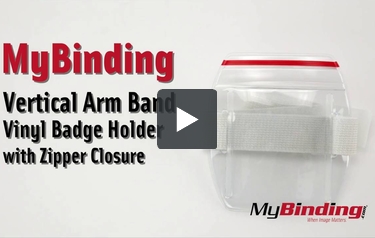 Arm Band Vertical Vinyl Badge Holder w/ Zipper Closure - White Strap
Transcript:
Welcome to MyBinding.com. These are the Vinyl Arm Band Badge Holders with Zipper Closure from MyBinding.

For active personnel who require prominent identification, these badge holders are a great solution. These holders can store ID cards up to 2-3/8x3-3/8" in size. The polished vinyl pouch is crystal clear for viewing and the zipper closure keeps moisture and dirt from getting in and damaging your ID. The arm band is comfortable elastic material and is kept secure with strong velcro. You won't even remember you have it on.

For more videos and all your binding needs, go to MyBinding.com ...
Read More
Welcome to MyBinding.com. These are the Vinyl Arm Band Badge Holders with Zipper Closure from MyBinding.

For active personnel who require prominent identification, these badge holders are a great solution. These holders can store ID cards up to 2-3/8x3-3/8" in size. The polished vinyl pouch is crystal clear for viewing and the zipper closure keeps moisture and dirt from getting in and damaging your ID. The arm band is comfortable elastic material and is kept secure with strong velcro. You won't even remember you have it on.

For more videos and all your binding needs, go to MyBinding.com