Avery Durable Plastic Write-On Multicolor 8-Tab 9-1/4" x 11-1/8" Dividers w/ Pockets 1 set - 16177
6.74
NewCondition InStock
Avery Durable Plastic Write-On Multicolor 8-Tab 9-1/4" x 11-1/8" Dividers w/ Pockets 1 set - 16177
Product Description
Get your binder organization on the right track with these Durable Plastic Write-On Dividers. The Avery Durable Plastic Write-On Multicolor 8-Tab 9-1/4" x 11-1/8" Dividers w/ Pockets - 1 Setoffers plenty of room for you to label each divider for reference at a glance. Using your ballpoint pen or pencil, you can customize your dividers easily. To reuse, simply erase your previous label and write in the new one. The dividers are constructed with a pocket for extra storage and are three-hole punched and ready to use. You'll be on the road to better organization with these dividers.
Product Details
Write-on tabs offer quick and easy customization using a ballpoint pen or pencil.
Simply write, erase and reuse.
Assorted colors assist in quick reference.
Three-hole punched and ready for use.
Pocket provides extra storage space for your paperwork.
Item Specifications
Divider Type: Customizable
Tab Style: 8-Tab
Tab Color: Multicolor
Index Divider Size: 9-1/4" x 11-1/8"
Punched/Unpunched: 3-Hole Punched
Quantity: 1 Set
Part Number: AVE-16177, 16177
Demonstration Video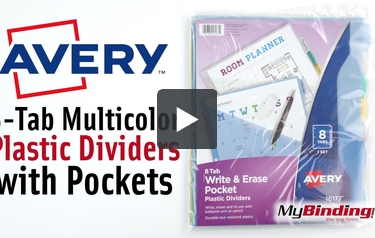 Avery Durable Plastic Write-On Multicolor 8-Tab 9-1/4" x 11-1/8" Dividers w/ Pockets - 1 Set
Transcript:
Welcome to MyBinding Video. These are the 8-Tab Multicolor Plastic Dividers with Pockets from Avery. Organize your binders and add storage with these unique dividers. Made with high quality plastic and punched for 3 ring binders, these dividers provide a solid easy turn between chapters. The semi translucent pocket shows the page inside can hold several unpunched sheets of paper. You can even title the chapter tabs with a pencil and erase them when you need to update. There are 8 different color dividers in this pack. For more videos and all your binding needs, visit MyBinding.com


Welcome to MyBinding Video. These are the 8-Tab Multicolor Plastic Dividers with Pockets from Avery. Organize your binders and add storage with these unique dividers. Made with high quality plastic and punched for 3 ring binders, these dividers provide a solid easy turn between chapters. The semi translucent pocket shows the page inside can hold several unpunched sheets of paper. You can even title the chapter tabs with a pencil and erase them when you need to update. There are 8 different color dividers in this pack. For more videos and all your binding needs, visit MyBinding.com