C-Line Black ID Card Reels Belt Clip with Snap-on ID Strap 25pk - CLI-89221
34.99
NewCondition InStock
C-Line Black ID Card Reels Belt Clip with Snap-on ID Strap 25pk - CLI-89221
Product Description
Features automatic retractable 30-inch cord. Available with a belt clip design featuring a snap-on ID strap attachment. Black.
Product Details
Color: Black
Quantity: 25 per pack
Part Number: CLI-89221
Demonstration Video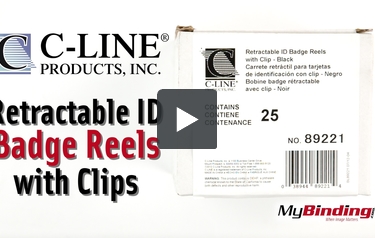 C-Line Black ID Card Reels Belt Clip with Snap-on ID Strap - 25pk
Transcript:
Welcome to MyBinding Video. These are the Retractable ID Badge Reels with Clips from C-Line. The solution to keeping your ID badges accessible and secured is a pack of these great badge reels. Just fit the vinyl strap through the punch in your ID badge and secure with the metal button. These reels have a glossy black finish and a strong metal tab on the back to fit over clothes or a belt. The nylon cord will stretch as long as your arm to easily display or reach to proximity access doors. Keep your badge at your fingertips with MyBindings badge reels. For more videos and all your binding needs ...
Read More
Welcome to MyBinding Video. These are the Retractable ID Badge Reels with Clips from C-Line. The solution to keeping your ID badges accessible and secured is a pack of these great badge reels. Just fit the vinyl strap through the punch in your ID badge and secure with the metal button. These reels have a glossy black finish and a strong metal tab on the back to fit over clothes or a belt. The nylon cord will stretch as long as your arm to easily display or reach to proximity access doors. Keep your badge at your fingertips with MyBindings badge reels. For more videos and all your binding needs, visit MyBinding.com