C-Line Clear Biodegradable Poly Envelope w/ String Closure 5pk - CLI-35117
3.83
NewCondition OutOfStock
We're sorry, but we no longer offer this item.
Call us at 1-800-944-4573 for personalized recommendations
or check out these similar items that may be a good fit:
C-Line Clear Biodegradable Poly Envelope w/ String Closure 5pk - CLI-35117
Product Description
C-Line's long lasting and stylish biodegradable reusable poly envelope will make your projects extremely easy and organize. The strong, acid-free archival quality polypropylene envelope designed to keep sensitive documents free from any type of damages. Polypropylene material means there are no photocopy transfer giving the best protection for your hard work. A string closure feature certifies all documents inside are firmly secured. The envelope is capable to hold documents up to 11 x 8 1/2" along with an easy access top-loading mechanism.ASTM testing certified product indicating this product will biodegrade in two to five years when buried in an anaerobic landfill. C-Line is proud to present a wide variety of envelope in different colors as well as numerous additional features. Go green today with C-Line biodegradable reusable products!
Product Details
Heavyweight archival quality polypropylene
Side-loading system for 11 x 8 1/2 document storage
String closure protection ensures all documents are secured
Clear finish for simple visibility
Meet the EPA definition of biodegradable
Item Specifications
Global Product Type: Envelope
Pre-Consumer Recycled Content Percent: 0 %
Total Recycled Content Percent: 0 %
Post-Consumer Recycled Content Percent: 0 %
Insert Size: 11 x 8 1/2"
Quantity: 5/PK
UPC: 038944351179
Part Number: CL-35117
Demonstration Video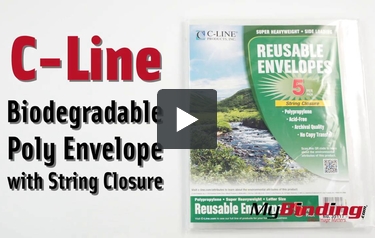 C-Line Clear Biodegradable Poly Envelope w/ String Closure
Transcript:
Welcome to MyBinding.com. These are the Clear Biodegradable Poly Envelope w/ String Closure from C-Line.

Keep your projects protected and organized with these stylish poly envelopes. Acid-free archival quality polypropylene prevents print transfer and degradation of your important documents. These envelopes are sized for standard 8.5x11" paper and can hold quite a few pages. The side flap is held secure with a closure string, which secures your documents inside and isn't distracting like Velcro closures can be when you're in meetings and conferences. ASTM testing certifies these envelopes a ...
Read More
Welcome to MyBinding.com. These are the Clear Biodegradable Poly Envelope w/ String Closure from C-Line.

Keep your projects protected and organized with these stylish poly envelopes. Acid-free archival quality polypropylene prevents print transfer and degradation of your important documents. These envelopes are sized for standard 8.5x11" paper and can hold quite a few pages. The side flap is held secure with a closure string, which secures your documents inside and isn't distracting like Velcro closures can be when you're in meetings and conferences. ASTM testing certifies these envelopes are biodegradable to EPA standards.

For more videos and all your binding needs, go to MyBinding.com