Navy Blue Break-Away Lanyard Badge Reel Combo - 100pk
176.09
NewCondition InStock
Navy Blue Break-Away Lanyard Badge Reel Combo - 100pk
Product Description
These high quality navy blue lanyards are 5/8" wide and include a break-away connector for safety. Each navy lanyard has a heavy duty slotted badge reel and clear vinyl strap on the end. The attached navy blue badge reel allows you to extend the reach of your ID, badge or access card. This means that you can easily swipe your card when necessary without the need to detach it from the end of your lanyard. The attached badge reel is 1-1/4" in diameter and includes 34" of cord so that you can easily extend your badge as far as you can reach. These navy blue lanyard badge reel combos are available in various colors and packaged 100 per order. Product number MYID21387003.
Product Details
Type: Lanyard / Badge Reel Combo
Width: 5/8" (16mm)
Length: 36 Inch
Color: Navy Blue
Attachment: Slotted Badge Reel with Clear Vinyl Strap
Attachment Color: Navy Blue
Break-Away: Yes
Quantity: 100 Lanyards Per Pack
Part Number: MYID21387003
Demonstration Video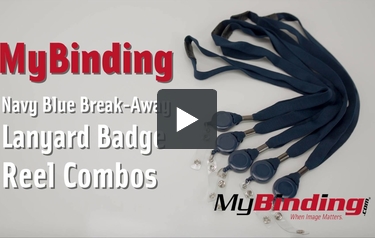 Navy Blue Break-Away Lanyard Badge Reel Combo
Transcript:
Welcome to MyBinding.com. These are the Navy Blue Break-Away Lanyard Badge Reel Combos.

These navy blue lanyards are functional and comfortable. They're 5/8" wide and made of soft cotton so they won't be abrasive on skin. The break away clip is strong enough to reliably stay secure, but will separate immediately if accidentally caught on anything. The reel has a strong plastic loop with a metal button to hold your ID, badge or access card. While small and lightweight, the reel holds 34 inches of cord to easily stretch as far as you can reach. If blue isn't your color, MyBinding has eight ot ...
Read More
Welcome to MyBinding.com. These are the Navy Blue Break-Away Lanyard Badge Reel Combos.

These navy blue lanyards are functional and comfortable. They're 5/8" wide and made of soft cotton so they won't be abrasive on skin. The break away clip is strong enough to reliably stay secure, but will separate immediately if accidentally caught on anything. The reel has a strong plastic loop with a metal button to hold your ID, badge or access card. While small and lightweight, the reel holds 34 inches of cord to easily stretch as far as you can reach. If blue isn't your color, MyBinding has eight other colors for you to choose from.

For more videos and all your binding needs, go to MyBinding.com