Swingline Compact Electric Pencil Sharpener - 29965
We at MyBinding.com are proud to present the all new Swingline Compact Electric pencil sharpener. This new compact pencil sharpener offers a great handheld, fast, quiet, and reliable sharpener for any size work area be it at home, school, office, or even on the go. The Swingline Compact electric sharpener is capable of reliably sharpening your pencil to perfection due to its lead saver feature and the fast and quiet operation. The Swingline Compact Electric Pencil Sharpener will precisely sharpen your pencil and is ideal for any school, work, or home environment where noise reduction, speed, and portability is a must. Backed by a limited 2-year warranty, the Swingline Compact electric pencil sharpener is ensured to meet all of your sharpening needs. Check it out from MyBinding.com today and save!
Product Details
Compact size allows for handheld use.
Fast, quiet operation.
Lead saver feature prevents over-sharpening.
Can also be powered by 6 AA batteries.
Limited 2-year warranty
Item Specifications
Detailed Color: Graphite/Green
Dimensions: 7.06" x 4.56" x 7.00"
Warranty: 2 Year
Part Number: SWI-29965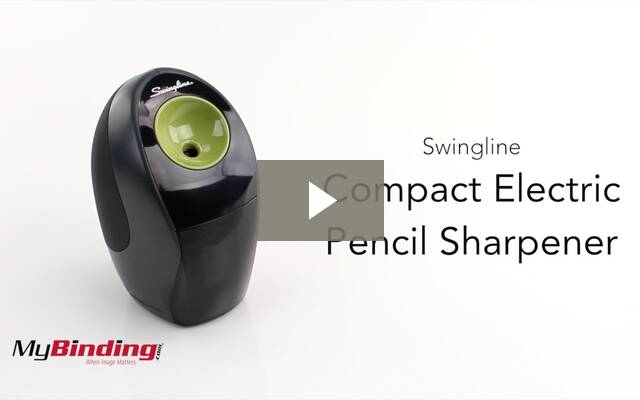 Transcript:
"This is the Swingline Compact Electric Pencil Sharpener!
You can either plug it in directly to the wall, or you can add batteries.
Place your 6 AA batteries on top of the red cord, but so that it h...
Read More
"This is the Swingline Compact Electric Pencil Sharpener!
You can either plug it in directly to the wall, or you can add batteries.
Place your 6 AA batteries on top of the red cord, but so that it hangs back over all the batteries. Do this so removing the batteries is as simple as a pull on the cord(after removing the middle battery).
You can nicely sharpen any standard sized wooden pencil. Though, if you slowly rotate your pencil while sharpening, you're more likely to get all sides even. It's a nice little trick for most any pencil sharpener.
Open the front tray to empty the shavings, it's probably best to open over the garbage so you don't make a mess everywhere.
When the tray is open, the blade will not spin for safety precautions.
You get sweet coupons and deals every week when you sign up for our email list!"
Swingline 29965 Compact Electric Pencil Sharpener Review
In addition to their fantastic hole punches and staplers, Swingline also produces some really excellent pencil sharpeners. One of their best is the 29965 Compact Electric Pencil Sharpener. This device is small, portable, and it does a great job every time you use it. Please keep reading to find out about this great device so you can determine if it will fit your needs.
The 29965 lives up to its name in that it's one of the most compact electric sharpeners around. This device is small enough to fit in the palm of your hand and it won't take up much room at all on your desk.
This device can be powered by either the included AC adapter or AA batteries so you'll be able to use it wherever you want. This would be a great product for students and traveling professionals.
If you're going to be using this device in shared work environment (i.e. an office or classroom), you don't have to worry about disturbing those around you. This sharpener operates very quietly so you can get those writing utensils sharpened and not distract your friends and colleagues.
Unlike some of Swingline's other pencil sharpeners, the 29965 lacks the ability to sharpen six different sizes of pencils. This will be problematic if you tend to use anything but a #2 pencil.

If you've ever had an electric sharpener whittle your pencils down to nothing, you know how frustrating it can be. That's not likely to happen with the 29965 because it has a lead saver feature. This feature makes it possible for you to get the sharpest point possible but not run the risk of wearing your writing utensil down to a stub.

The 29965's shaving cup is easy to empty and it's also translucent so you'll be able to tell when it needs emptying.

This device looks great. Its black and neon green styling are contemporary and eye-catching.

One of the really great features this device has to offer is its pencil storage area. You can use this area to store and organize your writing utensils so you can find them when you need them.

The 29965 is very reasonably priced - it can be yours for less than $25.00 which is quite the steal. It also comes with a great two-year warranty.
The Swingline 29965 is a terrific electric pencil sharpener. It works quickly and quietly so you can get your sharpening done in a flash and not disturb those around you. The lead saver feature is particularly handy and it ensures that your pencils will be sharpened perfectly but they won't be ground down too much. You'll also love that this device is nice and compact, and that it's portable especially when you use AA batteries with it. While it would be nice if this product could sharpen pencils of different sizes, it nonetheless is a first-rate device. So if you need a sharpener, be sure to give the 29965 a look.