GBC Swingline 5mil UltraClear Badge ID Card Size Thermal Laminating Pouches w/ Clip 25pk - 3202011B
21.49
NewCondition InStock
GBC Swingline 5mil UltraClear Badge ID Card Size Thermal Laminating Pouches w/ Clip 25pk - 3202011B
Product Description
Nothing shows off your ideas better than GBC HeatSeal laminating supplies. You'll experience brilliant color and superior protection with these GBC HeatSeal Ultraclear Pouches. These pouches are GBC's highest grade of laminating pouches and are ideal for customers looking for the best in quality, clarity, productivity and class. These GBC HeatSeal Ultraclear Pouches come pre-punched with a slot on the long side to save you time and money.
Product Details
Size: Badge ID Card Size
Dimensions: 2-9/16" x 3-3/4"
Thickness (Gauge): 5mil
Slot: Long Side Slot
Quantity: 25 per Box
Corners: Round (1/8" radius)
GBC Part Number: 3202011
Primary UPC: 033816021099
People Who Viewed Also Viewed
Demonstration Video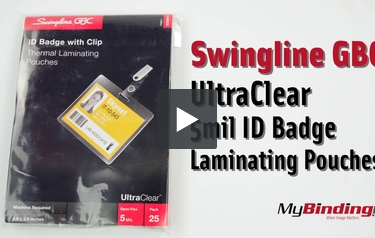 GBC Swingline 5mil UltraClear Badge ID Card Size Thermal Laminating Pouches w/ Clip
Transcript:
Welcome to MyBinding.com. These are the UltraClear 5mil ID Badge Laminating Pouches with Clips from GBC Swingline.

UltraClear Laminating Pouches make the clearest, most protected ID badges for your employees. Just slip your identification document into the pouch just before the punch, and insert into GBC or virtually any other brand pouch laminator. The 5mil thickness offers great durability and rigidity to last a very long time. For the best in quality, clarity, productivity and class, choose UltraClear Laminating Pouches.

For more videos and all your binding needs, go to MyBinding.com ...
Read More
Welcome to MyBinding.com. These are the UltraClear 5mil ID Badge Laminating Pouches with Clips from GBC Swingline.

UltraClear Laminating Pouches make the clearest, most protected ID badges for your employees. Just slip your identification document into the pouch just before the punch, and insert into GBC or virtually any other brand pouch laminator. The 5mil thickness offers great durability and rigidity to last a very long time. For the best in quality, clarity, productivity and class, choose UltraClear Laminating Pouches.

For more videos and all your binding needs, go to MyBinding.com