Balt Best-Rite Chalkboards
These chalkboards from Best-Rite are perfect for any busy classroom or training room. You can choose from the two options available, both made with the quality you'd expect from a leading brand like Best-Rite. Go with the versatile Porcelain Steel Chalkboard that has a super smooth, vitrified surface and enjoy writing and erasing quickly and with no ghosting. The magnetic surface can be used to apply magnetic teaching tools and materials and the chalkboard can be cleaned easily with ammonia and water. The Value-Rite Economy Chalkboard has a high pressure laminate surface that doesn't need chalking after use and you can clean it with water and common cleaners. Easy and practical!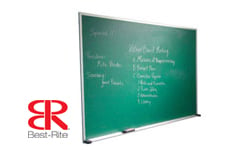 11 size choices ranging from 18" x 24" up to 4' x 16'.
Doubles as a magnetic bulletin board.
Full length tackable map rail and accessory tray included.
Mounting hardware included.