Bright Blue Fastback Super Strips
Designed with an eye-catching color, these Bright Blue Fastback Super Strips will make your projects stand out from afar. The color of a lagoon or of a clear blue sky will complement a wide range of tones, adding contrast to both lighter and darker covers. These strips are compatible with the Powis Fastback binding and printer systems and you can easily use them to bind manuals, reports, or books. Choose the width you need from narrow, medium, and wide – they all have a length of 11'' and come in cost-effective packs of 100.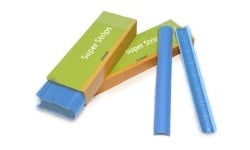 Bright blue Super Strips
Available in 11" lengths.
Widths; Narrow (capacity: 1/2" 10 - 125 sheets) Medium (1/2" - 1" 126-250 sheets) Wide (1" - 1-1/2" sheets)
Designed to work with Powis Fastback systems and printers.