Wilson Jones Custom Imprint Ring Binders
Give your presentations a stylish makeover with these Wilson Jones Custom Imprint Ring Binders. The practical design features pockets on the front cover for both your company's logo and for larger prints, so you can add a personal touch to your reports and presentations. We carry these binders in white and black, with a 1'' ring size that has a capacity of up to 200 and 220 sheets of 20 lb paper. The two interior pockets are ideal for holding prints, photos, business cards, or any notes written on loose pages. With 6 binders in every package, you can save money every time you place an order on MyBinding!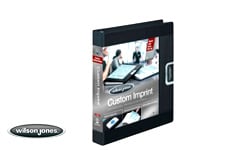 Capacity: 200 Sheets
Front pocket displays your company logo
Two interior pockets and business card holder
Sheet Size: 8.5" x 11"