Formax FD 402TA1 High Capacity Tabletop Air Jogger - Open Box
984.6
UsedCondition InStock
Formax FD 402TA1 High Capacity Tabletop Air Jogger - Open Box
Product Description
If your print shop or production house is tight on space, consider the FD402TA1 table top air jogger by Formax. This air jogger is a compact powerful model that aligns and dries sheets in a single process, reducing that static electricity, while offering the ability to jog 12" x 18" paper. You control the vibration speed and air pressure that allows press sheets and digital printouts to be air dried immediately. The FD402TA1 can process up to 940 sheets at a time. The V shaped bin lets you crisscross stacked piles of paper and the vertical to horizontal tilt feature keeps large paper stacks from bending. Part number FD402TA1.
Product Details
Align, Dry, Remove Static in One Step: The FD 402TA1 Tabletop Air Jogger is ideal for print shops and production houses with limited space. It aligns and dries printed sheets in a single process while reducing static electricity.
Variable Speed Control: Up to 2,500 vibrations per minute.
Variable Air Pressure Control: Up to 29,000 rpm, reduces jogging time.
Tilting Jog Bin: V-shaped bin adjusts from vertical to horizontal to accommodate various operating requirements, including large format paper stacks, and criss-cross stacked piles.
High Capacity: Jogs up to 940 sheets 20#.
Operating Modes: Vibrate and Air, Air-only and Vibrate-only.
Item Specifications
Variable Vibration Speed: Up to 2,500 vpm
Variable Air Control: Up to 29,000 rpm
Bin Size: 3.75" D x 20.375" W
Media Size: 5" x 7" Min - 12" x 18" Max
Sheet Capacity: Up to 940 sheets 20#
Dimensions: 21" W x 15" D x 23" H
Weight: 60 lbs.
Voltage: 110V/120V, 50/60 Hz
Warranty:

90 day limited warranty on parts.
Excluding wearables and labor.
Demonstration Video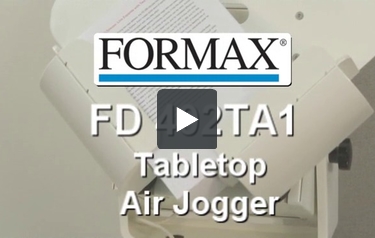 Transcript:
FD 402TA1 Tabletop Air Jogger

The FD 402TA1 Jogger uses both vibration and air to reduce static electricity, dry and square forms for further processing
Separate dials are used to control both vibration and air flow
The paper tray is adjustable up or down for best jogging results of different paper weights or sizes
Load up to 940 sheets at one time up to 12" x 18" in size

FD 402TA1 Tabletop Air Jogger
FD 402TA1 Tabletop Air JoggerThe FD 402TA1 Jogger uses both vibration and air to reduce static electricity, dry and square forms for further processing Separate dials are used to control both vibration and air flow The paper tray is adjustable up or down for best jogging results of different paper weights or sizes Load up to 940 sheets at one time up to 12" x 18" in sizeFD 402TA1 Tabletop Air Jogger