Akiles iCoil 41 Plus Oval Hole Spiral Coil Binding Machine
The price above reflects a $50 manufacturer instant rebate and the warranty of this machine has been extended to 2years.The Akiles iCoil Series Spiral Coil Binding Machines are ideal for individuals looking for an inexpensive way to bind coil documents easily, and efficiently. This low volume coil punch can punch up to 15 sheets of 20lb paper per lift. The Akiles iCoil Series is perfect for a small office or for any user who needs to occasionally bind coil documents. The Akiles iCoil-41 and iCoil-41 Plus, offer an inexpensive alternative for low volume color coil applications while providing the style and mechanical efficiency you come to expect from Akiles machines. This small punch makes a previously expensive binding style available to a whole new group of users with features like; a foot pedal controlled electric inserter, a coil size selector, side margin control, and vertical punching for easy alignment.
Product Details
Punches up to 15 sheets of 20lbs bond paper
Harden Steel dies: For a clean and precise punch every time, even when perforating delicate or hard to punch materials, such as PVC, PP, Polyester, etc.
Ergonomic Handle: Maximizes punching-strength, for an effortless perforation.
Strong: Metal chassis and high quality components guarantee durability and reliability.
Side Margin Control: To evenly center the document.
Vertical Punching: for easy alignment of sheets and reduced punching errors
Punches 4:1 Pitch .248 44 Hole Pattern
Warranty: 1 Year Manufacturer Warranty
Item Specifications
Model: iCoil 41 Plus (iCoil 41+)
Pitch: 4:1 (.248 - 44 Holes)
Hole Punch: Oval (4mm x 5mm)
Format: Letter
Punching Capacity: Up to 15 sheets of 20 lbs bond paper
Side Margin: Included
Waste Drawer: Included
Crimping Pliers: Included
Weight / Volume: 18 lbs /1.4 CbFt
Warranty: 1 year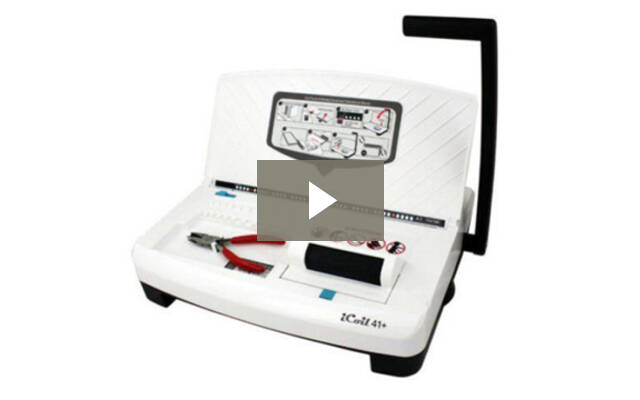 Transcript:
Welcome to MyBinding video. Today we look at the iCoil 41 Plus, an all-in-one coil binding system by Akiles. If you have the occasional need to bind books and projects with coil, the iCoil 41 could be...
Read More
Welcome to MyBinding video. Today we look at the iCoil 41 Plus, an all-in-one coil binding system by Akiles. If you have the occasional need to bind books and projects with coil, the iCoil 41 could be the perfect bet for you. Everything is here: electronic inserter, foot pedal, puncher, and coil crimping pliers. The Plus refers to the oval-hole punch; easier to insert the wire and bind larger books. Let's see just how simple it is and watch it in action.
First you want to adjust and set the side margin control so that all punches are made consistent throughout your whole project. With your papers in the throat and against the side margin control stop, make your punch. After your covers are done, continue to process through the rest of the papers in your project, punching holes. Up to 15 sheets of 20lb paper per lift.
When everything is punched, assemble your book together. It's time to bind. With the push of this button, it pops up the inserter roller. Taking one end of the project, you'll need to thread the first few holes by hand. Then, depress the pedal either by hand or by foot, place the coil up against the roller, and it goes right through. Finish off your project by crimping both ends and you can refer to our How To video on this if you need to.
And there you have it. A great-looking book made with the iCoil 41+ by Akiles. For more demos, reviews, and how to's on this product and many more, check out MyBinding.com.
Akiles iCoil 41 Plus Coil Binding Machine Review
Coil binding can make your documents look fantastic. If you want to partake in this document finishing method, you should take a look at the Akiles iCoil 41+. Here's a detailed look at its strengths – and weaknesses. Check them out to discover if this is the machine for you.
Strengths:
The iCoil's is a binding machine that uses coils with a 4:1 pitch. These binding supplies come in a terrific array of colors so you'll be able to find one that's just right for your particular document. And if you're not sure which size coil is right for your document, you can use this machine's coil selector to find the right one.
This device can punch up to 15 sheets of paper at a time, which is a pretty terrific amount. Best of all, the iCoil's punching mechanism is vertical so your sheets will be perfectly aligned every time you punch them. There's also a side margin control so that the holes will be evenly centered. In addition to paper, this device can punch materials such as PVC.
One of the great things about the iCoil is that it comes with an electric coil inserter which really helps speed up the binding process. The inserter is controlled by a foot pedal so you'll be able to keep your hands free and thus, have more control over how your document turns out.
The iCoil is easy to use thanks in part to its ergonomic handle. Even when your preparing a lot of documents, your joints won't get too tired so you'll be able to stay productive.
Akiles always makes durable machines and they've done so again with this product. This device has high-quality parts and a metal chassis so you'll be able to get years of use out of it. Even the punching dies are first-rate since they're made out of harden steel. If you want a durable coil binding machine, this product would definitely be a terrific choice.
Although the iCoil has some terrific special features, it's still priced affordably. It's also backed by a one-year warranty.
Weaknesses:
This device's punching capacity isn't going to be sufficient if you tend to work with a lot of lengthy documents. That makes this machine better for offices in which binding occur on an occasional basis.
Overall, the Akiles iCoil 41+ is a first-rate spiral binding machine and would be ideal for work environments that need such a device for occasional use. It has a decent punching capacity (unless you need to punch a lot of sheets in a short period of time) and the coil selector makes it easy to find the right supplies for your documents. The electric inserter is a very welcome feature as is the ergonomic handle. Best of all, this device is totally durable so you'll be able to count on it for a long time. If all of this sounds good to you be sure to take a look at the iCoil today and consider purchasing it for your workplace.