Drytac Artsafe Mounting Adhesives
Do you have an important artwork you need to mount or a vintage print you want to protect from the effects of harsh adhesives? Developed in conjunction with the British Library, Artsafe 200 can be used for restorations and archival work, so you can relax in knowing your artwork is safe. Made from acid-free, non-yellowing adhesive, the 39" x 82' Artsafe 200 has a very low standard activation temperature that makes it perfect for more delicate prints. Go ahead, order yours today and enjoy the high quality and strong adhesive from Drytac that will protect your most precious art prints and photos!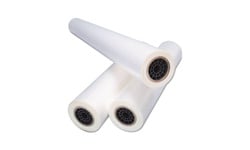 Roll Width: 39"
Roll Length: 16' - 82'
Core Size: 3"
Artsafe 200 can age up to 200 years without significant degradation.