Self-Adhesive Laminating Sheets
You don't need a laminator to laminate a project! With these clear adhesive laminating sheets, anyone can produce great laminated results without investing in a machine. Laminating sheets allow you to achieve one sided lamination, or apply another sheet for a fully enclosed two sided lamination. They are available in letter size and in roll format and offer a fast and easy option for laminating the front of a document, sign or card. Simply peel of the adhesive liner and apply the sheet to your paper. It doesn't get much easier than that. Scroll down and check out the options below.
Laminating Sheets Overview Video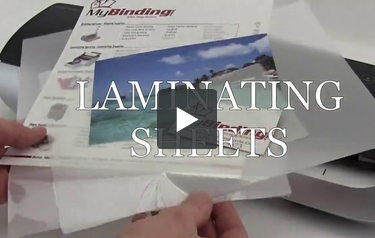 Transcript:
Welcome to MyBinding video. If you're looking for laminating sheets, you've come to the right place. Within the industry, laminating sheets are known as laminating pouches. These crystal clear laminating pouches are some of the best quality on the market ...
Read More
Welcome to MyBinding video. If you're looking for laminating sheets, you've come to the right place. Within the industry, laminating sheets are known as laminating pouches. These crystal clear laminating pouches are some of the best quality on the market