James Burn Lhermite AlphaDoc MK4 Automatic Binding Punch
37350
NewCondition InStock
James Burn Lhermite AlphaDoc MK4 Automatic Binding Punch
Product Description
Previously known as the the ALPHA-DOC MKIII, this NEW AlphaDoc MK4 provides large volume hands-free pre-collated punching. This high-speed automatic punch offers a top speed of 90 cycles per minute that can reach outputs up to 94,200 sheets per hour, with realistic outputs of 40,000 sheets per hour allowing time for operator loading & unloading of sheets. Punches preprinted, collated documents directly from your copier or printer (including mixed stocks from 16 lb. bond to 110 lb. index). Also punches tabs pre-collated into the finished sets. Tabs must have minimum 1/4" shoulder. Hands free operation means your operator is free to perform other tasks. Large selection of punch dies available. The remarkable ALPHA-DOC MK4 combines the versatility and ease of an office machine with the speed and efficiency of an automatic punch -- for perfect holes every time. Simply load the tray, push a button and walk away for hands-free punching of pre-collated books, presentations, proposals, reports... and even tabbed sheets. The ALPHA-DOC MK4 punches a wide variety of material in virtually any size from 5.4" x 5.4" up to 14" x 13". Our simplified paper path and unique turnover device with receding stacker provide low waste and assures that pages are kept in perfect pre-collated order. With a wide assortment of die patterns available and super fast changeover times, the Alpha-Doc MK4 will be a huge boost in your document binding productivity at a lower cost.
Product Details
High Productivity: With a top speed of 90 cycles / minute, it can punch up to 94,200 sheets per hour without the constant presence of the operator required.
Large capacity: The high pile feeder and reception trays will accomidate up to 6 reams of paper.
Versatility: The Alpha-Doc MK4 can punch a wide variety of paper stock and covers including tab cut sheets and wall calendars with thumbcut, in virtually any size from 5.4" x 5.4" up to 14" x 13".
Easy-to-Use: Just load the tray and push a button, no special training is required.
Simple Formating: Just follow the instructions on the conversational touch screen and, with pre-set standard formats, size change-over can be done in less than 2 minutes.
Wide Choice of Punching Dies: Lhermite original hardened steel dies provide long life time. They can be changed in less than 5 minutes. Retractable pins allow to produce clean and perfect holes whatever the sheet formats are. The wide choice of punching dies covers all perforation styles now including thumbcut punching. Lhermite original dies can be resharpened.
Installation: Caster wheels make machine placement quick and easy.
Item Specifications
Maximum Sheet Size: 14" x 13"
Minimum Sheet Size: 5.4" x 5.4"
Paper Stock: 16 lb. bond to 110 lb. index
Punching: Cycle Speeds up to 94,200 sheets per hour
Power Requirements: 110v Single Phase 60 Hz
Machine Dimensions: 46" H x 72" W x 28" D, with turnover device
Weight: 650 lbs. (unpacked)
Warranty: 1-Year Manufacturer's Warranty
Demonstration Video
Transcript:
Alpha-Doc the On Demand automatic punch for precision work!

Compact and mobile

Sheet sizes

Min : 138 x 138 mm
Max : 330 x 330 mm

Fast tool change over

Wide range of tools

High capacity sheet feeder

6 reams

Easy feeder setting

User-friendly control panel

Automatic format adjustment

Retractable punch pins

Centering of punching holes

Start Production

Able to punch up to

60 reams / hour

Turnover device keeps sheets in collated sequence

Neat reception

Precision punching

Punching tabbed sheets

Precision in tabbed sheet jogging

Alpha ...
Read More
Alpha-Doc the On Demand automatic punch for precision work!Compact and mobileSheet sizes
Min : 138 x 138 mm
Max : 330 x 330 mm
Fast tool change overWide range of toolsHigh capacity sheet feeder
Easy feeder settingUser-friendly control panelAutomatic format adjustmentRetractable punch pinsCentering of punching holesStart ProductionAble to punch up to
Turnover device keeps sheets in collated sequenceNeat receptionPrecision punchingPunching tabbed sheetsPrecision in tabbed sheet joggingAlpha-Doc
Fast
User friendly
Accurate
High output
Compact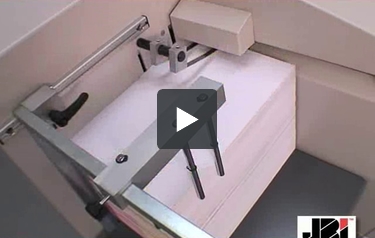 Staff Review
James Burn Lhermite MKIII Automatic Binding Punch Review
Does your workplace need a binding punch that can prepare thousands of sheets of paper for multiple binding methods? If so, you must check out the James Burn Lhemitre MKIII, one of the most impressive automatic binding punches available. Here's an in-depth look at what this machine is capable of so you can determine if it's right for your workplace.
First of all, the MKIII can process up to 40,000 sheets of paper per hour. That's an incredible amount, making this device perfect for binderies and print shops. This machine is compatible with different weights of paper ranging from 16 lb. bond all the way up to 100 lb. index sheets. The sheets you run through can be as small as 5.5" x 5.5" or as large as 13" x 13". It's even capable of processing index tabs.

The MKIII has a top-feed feature that can take in between 5 and 20 sheets are a time. No matter how many sheets are fed, you can be assured that they'll all be perfectly punched because this machine has retractable pins. That means you won't end up with holes that run off the edge of the page.

If you want to reduce the amount of static electricity between your sheets, you can attach an optional air valve to this device. The air will separate the sheets so that they're easier to process. (Note: an air supply isn't included.)

Your sheets will remain in order when the MKIII processes them because it's equipped with a turnover device. This will help you save time because you won't need to put your work back in order.

There are a number of interchangeable die sets for this device so you can partake in just about any kind of binding you want. There are sets available for twin-loop wire, VeloBind, plastic comb, color coil binding, etc. Dies can produce square and round holes as well.

Although you wouldn't know it to look at it, the MKIII is pretty easy to use. All you really need to do is put your paper in the feeder, press a button, and the machine will begin punching. There's even a keypad you can use to control things. Best of all, it only takes a few minutes to change the die sets, so this is a great device to use when you want to save some time.

The MKIII is incredibly large, so it's not meant for workplaces that are looking for a desktop punch. This machine's dimensions are 46" (height) x 72" (width) x 28" (depth) - that's equivalent to 3.8' x 6' x 2.3'. Plus, it weighs 650 pounds. Luckily, it's equipped with casters so moving it won't be impossible.

Finally, this product has a one-year warranty for parts and a 90-day one for labor.
The James Burn Lhermite MKIII is a remarkable binding punch thanks to its easy operation and phenomenal punching capacity. This is the ideal device for high-output environments, especially print shops, although it's probably a bit too large for use in most offices. The MKIII is one of the best high-capacity punches on the market, so if it sounds right for your workplace, take a look at it today.