What styles of lanyards are there?
If you need lanyards for your employees, volunteers, or visitors, chances are you're curious about what options are available. Once upon a time, it was difficult to find a lanyard that was any color but black with an attachment other than a nickel-plated swivel hook. However, lanyards have come a long way since then. These days, you have many options available including some really fashionable and environmentally friendly ones. Here are five different styles of lanyards that you might want to consider when buying lanyards for your employees, especially if you want something fresh and different.
Environmentally Friendly Lanyards
There are two types of environmentally friendly lanyards available. The first type is made from bamboo, a substance that obviously grows naturally on the earth and is a renewable resource. Bamboo lanyards are super soft and come in two different widths: 3/8″ and 5/8″. Six colors are available and each lanyard has a break-away clasp for added safety. Another environmentally friendly alternative is a lanyard that is one that's made from recycled Polyethylene Terephthalate (P.E.T.). (recycled plastic bottles.) These P.E.T. lanyards also come in the same widths as the bamboo ones and are a fabulous choice if you're concerned about your carbon footprint.
Printed Lanyards
Sometimes you just have to express yourself and it's easy to do with printed lanyards. With printed lanyards, you can have your company's name and logo imprinted on the fabric, as well as any other message you may wish to send. These lanyards are available in both break-away and non-breakaway styles.
Everyone has a cause these days and it's always good to make people aware of various social issues, whether it's saving the planet, promoting literacy, or curing various types of diseases. Some lanyards that are available include ribbon lanyards, which display awareness ribbons. Colors available include green, pink, and white, so you can choose the appropriate color ribbon for your cause, such as a red ribbon for AIDS awareness. There are also breast cancer awareness lanyards which are great for use at hospitals, women's clinics, and events such as the Walk for the Cure.
YourStyle Lanyards
If you want a lanyard that's a little bit more stylish than your typical everyday lanyard, you should check out YourStyle lanyards. These are available in several different styles: beaded, imitation leather, and sparkle. The beaded lanyards look almost like costume jewelry, so they're great if you need something a little bit flashy. And speaking of flash, the sparkle lanyards are pretty glamorous. They consist of translucent tubing that's filled with silver beads, so they sparkle. Finally, the imitation leather lanyards are good if you want a rugged look. It all depends on the image you're trying to convey.
Anti-Microbial Lanyards
Finally, if your company or organization is in a field in which cleanliness is important (i.e. healthcare, food service, etc.), you should take a look at anti-microbial lanyards. These lanyards contain nanoparticles that help prevent the growth of such nasty things as fungus and mold. They also help kill bacteria, so they're great for keeping a sterile environment safe.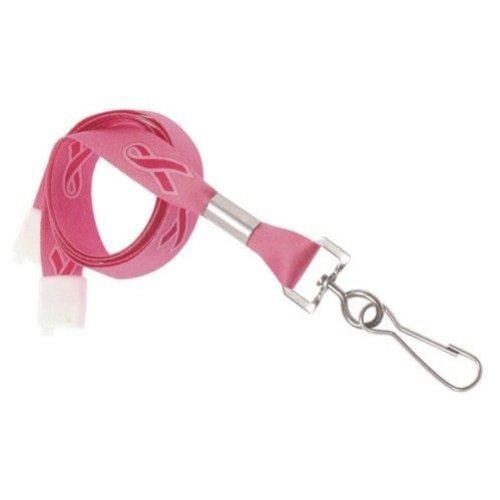 Related
Knowledgebase Articles
Can I use wire with my comb binding machine?
Krish Technologies posted this on Jul 20, 2015
< Over the years, a number of customers have asked me whether they can use twin loop wire with their plastic comb binding machine. These customers often don't want to have to buy a brand new machine but like the look and feel of twin loop wire binding. However, the answer to their question isn't as simple as it seems. You see, they actually do make twin loop wire that is designed to work with the plastic comb binding hole pattern. With that said, if you want to use these wires you are going to need a way to close the wires. What is Spiral-O Wire? Let me explain a little bit more…There is a product that we carry called Spiral-O Wire. This wire has 19 loops and is designed to work with the hole pattern from a plastic comb binding machine. Spiral-O Wire is sometimes called Wire Combs or Ibico Wire and was originally designed for use with some of the older Ibico binding machines. A number of the older Ibico plastic comb binding machines also included a twin loop wire closer on the front of them to allow users to use both plastic combs and wire. This 19 loop wire was designed for this purpose. What Equipment is Needed? As the Ibico brand has been phased out by GBC and all of the older Ibico plastic binding machines have been replaced with new models, they no longer have the twin loop wire closer on the front of them. This presents a problem in trying to use these spiral-o wires since you can't use the wires without a way to close them. One of the only options left is to purchase a Twin Loop wire closer. However, since twin loop wire closers are not incredibly cheap this option usually only appeals to users who have larger electric plastic comb binding machines. Otherwise, it is often advisable to simply buy a low end 3:1 pitch twin loop wire binding machine (the supplies are cheaper). This being said, if you have one of the older Ibico binding machines that has a wire closer included you are in luck. The Spiral-O binding supplies that we carry will work perfectly with your machine and you will be able to use both plastic combs and wire depending on your needs. These Spiral-O binding supplies are available in Black, Silver, White, Blue and Red and in sizes up to 1″ in diameter. If you aren't sure what type of wire binding supplies that you need to work with your machine simply give us a call. Our trained sales representatives will be glad to help you find the correct supplies for use with your machine.(Read More)