What should I know about Velobind Binding?
posted this on Jul 6, 2015
If your office is considering binding documents, reports, briefs and proposals you will need to select a binding system. Although there are many different binding systems available on the market, one of the most professional binding systems is called Velobind. This article provides a quick overview of six reasons to consider using Velobind to bind documents for your office.
Tamper Safe Security: Velobind hot knife binding is by far the most secure binding available on the market. The Velobind binding machine actually takes the binding strip and rivets in place melting the plastic pins into the back of the receiving strip. In order to remove pages from a document bound with Velobind you actually have to cut binding strip apart using a razor blade tool. Without an expensive machine to rebind the document users can not edit the document without it being very obvious. For this reason many lawyers and government offices choose Velobind hot knife systems to bind their briefs and sensitive documents.

Copy Safe Design: Unlike other punch and bind systems, documents bound with Velobind will not open flat on a desk or table. This is an important feature for documents that are of a sensitive nature and should not be photocopied. The design of Velobind allows documents to be easily read. Pages from the document are difficult to copy using a photocopier since it is difficult to lay them flat on the scanner. When you combine this feature with the tamper safe design of Velobind, no other binding system is more secure.

Professional Appearance: Documents bound with Velobind offer a clean professional appearance unlike any other binding style on the market. The Velobind binding strips run along the spine of your document neatly framing the spine of the document while concealing any evidence of the holes punched in the document.

Durability: Velobind is one of the most durable binding styles available on the market. This binding style offers a completely flat design that makes sending documents through the mail a breeze. Additionally, documents bound with Velobind will not be damaged if something heavy is set on them. The binding spines on documents bound with comb binding, wire binding and spiral binding can become deformed if compressed. Velobind does not have this problem.

Document Sizing: Using a Velobind system three, it is possible to bind documents as thick as 3 inches (approximately 750 sheets). This makes Velobind the only binding system capable of binding documents over 2 inches. For companies that bind extremely large documents, reports or briefs this makes Velobind a natural choice. Velobind binding strips are also available in a number of different lengths for binding landscape documents, letter size documents and Iegal sized documents.

Supply Cost Savings: One of the main benefits of owning a Velobind binding system is the limited supply inventory that is required for this binding style. Unlike other binding styles which require a separate box of binding supplies for every size of document that you intend to bind, Velobind binding strip come in just three thicknesses. One strip binds documents up to 1 inch, another up to two inches and a third is designed to bind documents up to 3 inches. This means that companies can save both money and space traditionally taken up by binding supplies.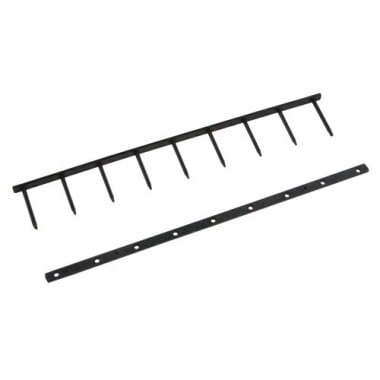 Related
Knowledgebase Articles
Can I use wire with my comb binding machine?
posted this on Jul 6, 2015
< Over the years, a number of customers have asked me whether they can use twin loop wire with their plastic comb binding machine. These customers often don't want to have to buy a brand new machine but like the look and feel of twin loop wire binding. However, the answer to their question isn't as simple as it seems. You see, they actually do make twin loop wire that is designed to work with the plastic comb binding hole pattern. With that said, if you want to use these wires you are going to need a way to close the wires. What is Spiral-O Wire?Let me explain a little bit more…There is a product that we carry called Spiral-O Wire. This wire has 19 loops and is designed to work with the hole pattern from a plastic comb binding machine. Spiral-O Wire is sometimes called Wire Combs or Ibico Wire and was originally designed for use with some of the older Ibico binding machines. A number of the older Ibico plastic comb binding machines also included a twin loop wire closer on the front of them to allow users to use both plastic combs and wire. This 19 loop wire was designed for this purpose.What Equipment is Needed? As the Ibico brand has been phased out by GBC and all of the older Ibico plastic binding machines have been replaced with new models, they no longer have the twin loop wire closer on the front of them. This presents a problem in trying to use these spiral-o wires since you can't use the wires without a way to close them.One of the only options left is to purchase a Twin Loop wire closer. However, since twin loop wire closers are not incredibly cheap this option usually only appeals to users who have larger electric plastic comb binding machines. Otherwise, it is often advisable to simply buy a low end 3:1 pitch twin loop wire binding machine (the supplies are cheaper). This being said, if you have one of the older Ibico binding machines that has a wire closer included you are in luck. The Spiral-O binding supplies that we carry will work perfectly with your machine and you will be able to use both plastic combs and wire depending on your needs. These Spiral-O binding supplies are available in Black, Silver, White, Blue and Red and in sizes up to 1″ in diameter.If you aren't sure what type of wire binding supplies that you need to work with your machine simply give us a call. Our trained sales representatives will be glad to help you find the correct supplies for use with your machine.(Read More)