Can I bind documents longer than 11 inches with Comb Binding?
Most of the comb binding systems and supplies on the market are designed for binding letter sized documents. Sometimes, though, I occasionally have customers call and ask if there is a way to comb bind documents that are longer than 11". Binding these documents is possible with many of the different comb binding systems on the market. There are a number of things to consider when attempting to comb bind such documents. Here is a quick review of the three things you will need to bind these oversized documents with plastic comb binding.
First, you need a comb binding that is the appropriate length. Black legal sized combs are commonly available on the market and are a stock binding supply item at www.MyBinding.com. Other lengths of plastic spines such as A4, A3 or legal are also available but may require minimum orders and or custom order charges. Generally spea
king, black and white comb binding supplies are cheaper and easier to find in custom lengths than colored comb bindings. If you need a custom length colored spine, you really need to call and check on availability and lead time.
Second, you need a way to punch the documents. Depending on the length of your binding edge, there are a number of binding machines that can assist in accomplishing this task. If you are looking for a way to bind legal sized documents, there are several low cost comb binding machines with 14" punches on the market. For instance, both the 240PB comb binding machine by Tamerica Products or the Megabind by Akiles support 14" binding combs. If you need to bind longer documents such as 11" x 17" sheets or large format calendars, there are two options. You can use one of the many open-ended comb binding punches on the market and punch your books in two sections. Simply punch one side, then flip the book over and punch the remainder of the document. Alternatively, Rhin-O-Tuff makes the HD7500 modular punch. The Rhin-O-Tuff HD7500 is the only commercially available 24" wide punch on the market. It is specifically designed for punching large format documents such as calendars and blueprints and a plastic comb binding die is available for it.
Third, you will need a plastic comb binding opener to open your comb bindings in order to complete the binding process. Once again, if you are looking to bind documents that are 14" or smaller, the legal sized comb binding machines on the market will include a comb binding opener. Alternatively, there are several reasonably priced 14" stand alone comb binding openers available on the market that won't break the bank. Unfortunately, there are currently no comb binding openers on the market that are longer than 14". This means that inserting documents onto comb bindings that are longer than 14" is a two step process. You simply use your comb binding opener to open the left hand side of the book and insert your document onto the rings that are opened and then repeat for the right hand side of the book. This can be a little bit tricky when trying to insert the document on the middle rings of the comb binding but isn't too bad once you get the hang of it. As they say, practice makes perfect.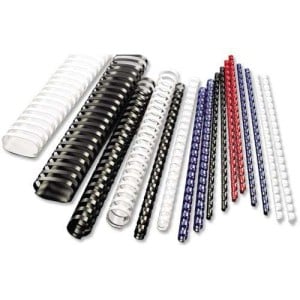 Related
Knowledgebase Articles
Can I use wire with my comb binding machine?
Krish Technologies posted this on Jun 24, 2015
< Over the years, a number of customers have asked me whether they can use twin loop wire with their plastic comb binding machine. These customers often don't want to have to buy a brand new machine but like the look and feel of twin loop wire binding. However, the answer to their question isn't as simple as it seems. You see, they actually do make twin loop wire that is designed to work with the plastic comb binding hole pattern. With that said, if you want to use these wires you are going to need a way to close the wires. What is Spiral-O Wire?Let me explain a little bit more…There is a product that we carry called Spiral-O Wire. This wire has 19 loops and is designed to work with the hole pattern from a plastic comb binding machine. Spiral-O Wire is sometimes called Wire Combs or Ibico Wire and was originally designed for use with some of the older Ibico binding machines. A number of the older Ibico plastic comb binding machines also included a twin loop wire closer on the front of them to allow users to use both plastic combs and wire. This 19 loop wire was designed for this purpose.What Equipment is Needed? As the Ibico brand has been phased out by GBC and all of the older Ibico plastic binding machines have been replaced with new models, they no longer have the twin loop wire closer on the front of them. This presents a problem in trying to use these spiral-o wires since you can't use the wires without a way to close them.One of the only options left is to purchase a Twin Loop wire closer. However, since twin loop wire closers are not incredibly cheap this option usually only appeals to users who have larger electric plastic comb binding machines. Otherwise, it is often advisable to simply buy a low end 3:1 pitch twin loop wire binding machine (the supplies are cheaper). This being said, if you have one of the older Ibico binding machines that has a wire closer included you are in luck. The Spiral-O binding supplies that we carry will work perfectly with your machine and you will be able to use both plastic combs and wire depending on your needs. These Spiral-O binding supplies are available in Black, Silver, White, Blue and Red and in sizes up to 1″ in diameter.If you aren't sure what type of wire binding supplies that you need to work with your machine simply give us a call. Our trained sales representatives will be glad to help you find the correct supplies for use with your machine.(Read More)