What are my options for binding thick documents?
posted this on Jul 16, 2015
When it comes to binding thick documents, you might think your options are limited. Luckily, that's not the case. Here are several ways you can bind thick documents:
Plastic comb binding. Plastic comb binding is perfect for long documents. The largest combs are 2" in diameter and can bind up to 425 pages. The big combs are oval-shaped instead of circular and they have locks on them to keep your document together. Also, plastic combs come in a number of different colors.
Color coil binding. If you enjoy working with color coils, you'll be happy to know that they can be used to bind thick books. Like plastic combs, they can be used to bind documents containing 400+ pages. Be aware that binding thick documents with coils can be tricky. It might take a bit of practice before you can do it successfully.
Wire binding. Wire binding is one of the best ways to make any document look elegant. There are some wire spines that are 1.5" thick and they can bind as many as 300 pages. These wire spines require a 2:1 pitch hole pattern (i.e. 2 holes punched per inch) so you'll need to make sure that the binding machine you're using can produce this hole pattern.
Thermal binding. Another bookbinding method you should consider is thermal binding. This method makes documents look like they've been professionally bound which is a major plus if you need to impress someone. There are some thermal binding supplies that can bind up to 500 pages. These supplies can also be customized.

Unibind.

Unibind machines are very similar to thermal binding devices because the supplies used must be activated with heat. These machines require special Unibind supplies which can bind as many as 340 sheets of paper. Unibind machines and supplies are ideal if you need to put together photobooks.

GBC Velobind and SureBind. GBC Velobind and Surebind devices are perfect for binding a lot of thick documents. Some of these systems can bind work that's 3" thick. That's equivalent to 750 pages. The supplies needed for these devices are affordable so they're a great choice if you need to stick to a budget. Just be aware that it's very difficult to edit your documents later on.
Screw posts.

U

sing screw posts is a good idea if your work is particularly long and if you need to save money. Screw posts can bind books that are up to 5" thick and if you use an extender, you can bind even more pages. Best of all, these supplies are easy to use and don't really require any special equipment except a hole punch. (Or a paper drill if you need to punch holes in large stacks of paper.)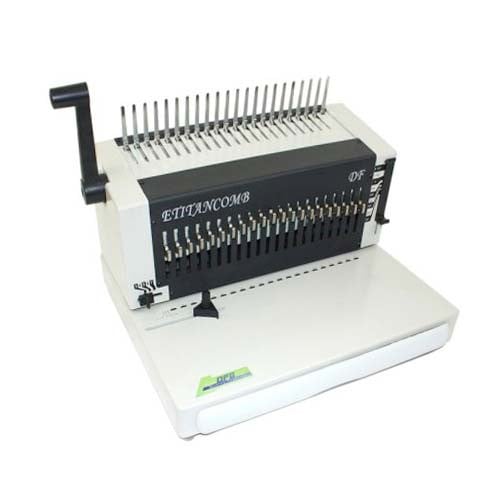 Related
Knowledgebase Articles
Can I use wire with my comb binding machine?
posted this on Jul 16, 2015
< Over the years, a number of customers have asked me whether they can use twin loop wire with their plastic comb binding machine. These customers often don't want to have to buy a brand new machine but like the look and feel of twin loop wire binding. However, the answer to their question isn't as simple as it seems. You see, they actually do make twin loop wire that is designed to work with the plastic comb binding hole pattern. With that said, if you want to use these wires you are going to need a way to close the wires. What is Spiral-O Wire?Let me explain a little bit more…There is a product that we carry called Spiral-O Wire. This wire has 19 loops and is designed to work with the hole pattern from a plastic comb binding machine. Spiral-O Wire is sometimes called Wire Combs or Ibico Wire and was originally designed for use with some of the older Ibico binding machines. A number of the older Ibico plastic comb binding machines also included a twin loop wire closer on the front of them to allow users to use both plastic combs and wire. This 19 loop wire was designed for this purpose.What Equipment is Needed? As the Ibico brand has been phased out by GBC and all of the older Ibico plastic binding machines have been replaced with new models, they no longer have the twin loop wire closer on the front of them. This presents a problem in trying to use these spiral-o wires since you can't use the wires without a way to close them.One of the only options left is to purchase a Twin Loop wire closer. However, since twin loop wire closers are not incredibly cheap this option usually only appeals to users who have larger electric plastic comb binding machines. Otherwise, it is often advisable to simply buy a low end 3:1 pitch twin loop wire binding machine (the supplies are cheaper). This being said, if you have one of the older Ibico binding machines that has a wire closer included you are in luck. The Spiral-O binding supplies that we carry will work perfectly with your machine and you will be able to use both plastic combs and wire depending on your needs. These Spiral-O binding supplies are available in Black, Silver, White, Blue and Red and in sizes up to 1″ in diameter.If you aren't sure what type of wire binding supplies that you need to work with your machine simply give us a call. Our trained sales representatives will be glad to help you find the correct supplies for use with your machine.(Read More)