Desktop Electric Cold Laminators
Interestingly enough, there aren't actually that many desktop electric cold laminators on the market today. However, we do carry a couple of models including the JM18 and JM26 Jet Mounters. Or you can check out our commercial category for options that do both hot and cold laminating. The two jet mounter units are designed for use with cold laminating films and mounting adhesives. They are commonly used with pre-treated mounting boards to do overlaminating and mounting in single step. They have adjustable pressure, roller gap and speed settings to give you flexibility and offer a single roll feeder (you will have to take care of the take up if you are using films with a release liner). Take a look and if you have any questions feel free to give us a call or send us an e-mail.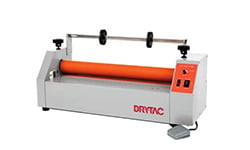 LAMINATING THICKNESS – 5 Mil max. pouch thickness.
1-YEAR WARRANTY – Limited manufacturer's warranty.
HOT & COLD – Accepts thermal and cold laminate pouches.
LAMINATING WIDTH – 12" Wide laminating.