Industrial Micro Cut Paper Shredders
Have your cake and eat it too with our line of industrial micro cut shredders. Not only will you get all of the advantages of a high volume, high capacity machine, but the best of security also. These models are ranked at a micro-cut level of security, making them much higher than most industrial type machines. This line is designed to eliminate the need for a time consuming, expensive, outsourced shredding service for your organization. These models are fully equipped with a variety of safety features and user friendly interfaces. Streamline your flow of sensitive information and take out the risk of handing it over to a third party effectively increasing your risk. Take a look at the options we have below.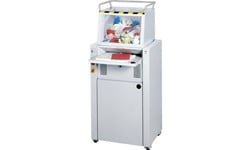 Shred Capacity: 25 Sheets
Cut Style: Micro Cut
Security Level: P-5 (old Level 4)
Waste Bin Capacity: 50 gal.