10mil Red Transparent Tinted Clear Covers
10 mil red transparent covers
Available in 13 different sizes
Can be ordered unpunched or with 8 various punch styles
Comes in packs of 100
Product Description
Whether you're looking to color-code documents or make a presentation stand out, these red tinted covers will do the trick. Made from the same high quality materials as our standard clear covers, these transparent red covers sport a 10mil thickness guaranteed to guard against your typical dangers to documents. Also like our clear covers, the transparent red tinting still allows your title page to show through. With more than 50 color-tinted covers to choose from, be sure to make the right selection. These covers are also available in transparent green, yellow, and blue.
Product Details
Cover Type: Crystal Clear/Clear View (Tinted)
Cover Thickness: 10mil
Cover Size: 8.5? x 11? - 11" x 17"
Color: Transparent Red
Corners: Square (8.75" x 11.25" Oversize Have Round Corners)
Quantity:100pk
Demonstration Video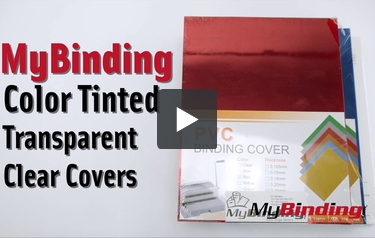 10mil Color Tinted Transparent Clear Covers
Transcript:
Welcome to MyBinding.com. These are the 10mil Color Tinted Transparent Covers from MyBinding. Add a little color to your report with these fun, clear covers. Made from highly durable acetate, these covers protect your reports while showing the cover page through a bright bold color transparency. The 10mil thickness and protective material are sure to guard your documents from harm. Order them unpunched, or prepunched to any standard binding specifications. They can be used to color coordinate reports, or make sure yours gets noticed among a stack of other documents. They can also be used to pl ...
Read More
Welcome to MyBinding.com. These are the 10mil Color Tinted Transparent Covers from MyBinding. Add a little color to your report with these fun, clear covers. Made from highly durable acetate, these covers protect your reports while showing the cover page through a bright bold color transparency. The 10mil thickness and protective material are sure to guard your documents from harm. Order them unpunched, or prepunched to any standard binding specifications. They can be used to color coordinate reports, or make sure yours gets noticed among a stack of other documents. They can also be used to play with the colors on your cover page, notice how they change how our logo appears. For more videos and all your binding needs, go to MyBinding.com
Sizing Guide
| | | | | |
| --- | --- | --- | --- | --- |
| Part Number | Size | Color | Thickness | Corners |
| TC108.5X11RD | 8.5" x 11" | Transparent Red | 10 mil | Square |
| TC108.5X11RDH | 8.5" x 5.5" | Transparent Red | 10 mil | Square |
| TC108.5X14RD | 8.5" x 14" | Transparent Red | 10 mil | Square |
| TC108.75X11.25RD | 8.75" x 11.25" | Transparent Red | 10 mil | Round |
| TC109X11RD | 9" x 11" | Transparent Red | 10 mil | Square |
| TC1011X17RD | 11" x 17" | Transparent Red | 10 mil | Square |
| TC106X9RD | 6" x 9" | Transparent Red | 10 mil | Square |
| TC108X8RD | 8" x 8" | Transparent Red | 10 mil | Square |
| TC1011X14RD | 11" x 14" | Transparent Red | 10 mil | Square |
| TC1010X13RD | 10" x 13" | Transparent Red | 10 mil | Square |
| TC108X10RD | 8" x 10" | Transparent Red | 10 mil | Square |
| TC1010X10RD | 10" x 10" | Transparent Red | 10 mil | Square |
| TC108.3X11.7RD | A4 | Transparent Red | 10 mil | Square |