FP 1-XLS Paper Hole Drill with Moving Table
364.00
NewCondition InStock
FP 1-XLS Paper Hole Drill with Moving Table
Product Description
The FP 1-XLS introduces an efficient and productive drilling solution for any office size and work volume. Constructed with solid die-cast aluminum material, the heavy-duty paper drill machine will provide a premium hole punches at a high volume demand. The FP 1-XLS is capable to handle up to 300 sheets of document with very little effort on your end. Self-centering side guides and adjustable back stop provides a user-friendly environment while limiting the wasted material. Equipped and supplied with two 1/4" punch pieces, two base boards and tools creating the ultimate paper drilling atmosphere. It creates a bigger holes than the typical standard hole punch, ensuring a much easier process when turning the pages. Additional punch bits sizes 3/16", 1/4" 5/16" and 3/18" are all sold separately. Ideal for any thick 2 or 4 hole paper punch projects. Stop wasting time by doing a stack at a time, upgrade to the FP 1-XLS Paper Drill today.
Product Details
Simple and easy multi-hole punching process by sliding the table
Punch up to an impressive 300 sheet of document at one time
Very little pressure needed to operate
Capable to handle up to 14" wide paper
Features a sliding table with adjustable stops providing an efficient work environment
Heavy-duty die-cast aluminium construction
Includes two 6mmmm (0.25") punch bits
Optional extra punches includes 3/16", 1/4", 5/16", and 3/18" (Sold Separately)
Item Specifications
Sheet Capacity: Up to 300 sheets (20# Bond Copy Paper)
Max Paper Width: 14"
Max Paper Height: 1"
Dimension: 17-3/4" x 12-1/2" x 8-1/4" (W x D x H)
Manufacturer's Warranty: 1 Year
Demonstration Video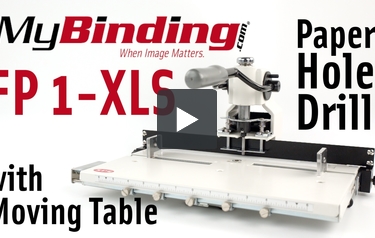 MyBinding FP 1-XLS Paper Hole Drill with Moving Table
Transcript:
Welcome to MyBinding Video. This is the FP 1-XLS Paper Hole Drill with Moving Table from MyBinding. Punching documents for use with ring binders has never been easier with this piece of equipment. I'd even say it's pretty fun to use. Constructed with solid die-cast aluminum, this heavy duty paper drill punches clean holes through up to 300 sheets of 20lb paper with minimal effort. It comes equipped with a 1/4" diameter punch head, slightly larger than standard punches to make turning the pages much easier. The moving table is very easy to set up and use. Two edge guides are geared together to ...
Read More
Welcome to MyBinding Video. This is the FP 1-XLS Paper Hole Drill with Moving Table from MyBinding. Punching documents for use with ring binders has never been easier with this piece of equipment. I'd even say it's pretty fun to use. Constructed with solid die-cast aluminum, this heavy duty paper drill punches clean holes through up to 300 sheets of 20lb paper with minimal effort. It comes equipped with a 1/4" diameter punch head, slightly larger than standard punches to make turning the pages much easier. The moving table is very easy to set up and use. Two edge guides are geared together to perfectly center each page and prevent any movement as you punch. The depth guide is adjusted with two thumb screws, one on each side of the table. Under the front edge of the table, you'll see 5 screw heads. These are the stops that the table will hit as you move it, and you can adjust he position of each stop individually with a flat blade screwdriver. If you start with the table all the way to the right, pull the table left and you'll hit the first stop. Lifting the silver lever on the left of the table disengages the stops, so you can move onto the second stop and so on. The FP 1-XLS is incredibly easy to use, backed by a one year warranty, and if you have any questions, our wonderful customer service associates are always there to answer them. For more videos and all your binding needs, visit MyBinding.com
Punch Bits and Accessories
| | |
| --- | --- |
| Product Name | Item Number |
| Filepecker FP-1XLS 3/8" Paper Punch Bit | MYFPPLS38 |
| Filepecker FP-1XLS 5/16" Paper Punch Bit | MYFPPLS516 |
| Filepecker FP-1XLS 1/4" Paper Punch Bit | MYFPPLS14 |
| Filepecker FP-1XLS 3/16" Paper Punch Bit | MYFPPLS316 |