4 Pin Velobind Machines
These 4 Pin Velobind Machines are easy-editing, reclosable binding systems designed for use with 4 Pin Velobind strips. These machines produce documents that can lie flat like a book for easy stacking. Unlike Hot-knife Velobind machines, the use of 4 pin spines allows documents to be edited with ease. You will also find the 4 pin machines to be much more affordable than larger 11 pin systems. They give you the same looking final product without permanently securing your documents together.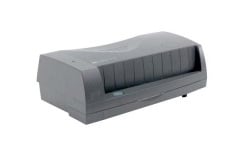 Easy push-button punching for enhanced productivity (24 sheets)
Compatible with GBC EVB Reclosable 4 Pin Velobind Strips
200 sheet binding capacity
24 sheet punch capacity

Suitable for home and small office use
Works with 4-pin VeloBind and SureBind spines
20 sheet punch capacity
1 year limited manufacturer warranty

Punch Capacity: 20 sheets (20lb paper)
Punch Length: 11"
Compatible with: 4-Pin Velo Strips
Heavy duty construction.