Premium Black D-Ring Clear Overlay View Binders
Premium Black D-Ring Clear Overlay View Binders
Black cover with non stick clear view.
Sizes range from 1" to 4".
D-rings hold 200 to 700 sheets of 20lb paper.
Extra deep interior pockets.
Product Description
These Black Premium Slant D-Ring Clear View Presentation Binders are a great option for your valuable presentations. Simply insert color prints behind the special non-stick clear overlay to customize each binder on demand. Our Black Premium Clear Overlay View Binders are constructed with heavy duty materials with heavier chipboard, vinyl and heavy duty non-stick clear overlay material. Each Black Premium D-Ring binder has is covered with a heavy duty 11 gauge vinyl and the front, back and spine are covered with a 7.5 gauge ultra clear overlay. These binders come offer 2 extra deep inside pockets to store loose sheets and documents. These deluxe presentation binders are ideal for use with documents that need to be frequently referenced or for applications where the binders need to be reused.
Product Details
2 Inside 4.5" Extra Deep Pockets for Holding Loose Sheets< /li>
7.5 gauge clear overlay< /li>
11 gauge opaque cover material< /li>
Designed for 8.5" x 11" Sheets< /li>
Clear Overlay On Front, Black Back and Spine
Size: 1" - 4"
Approximate Capacity: 200 - 700 Sheets
Quantity: 6pk or 12pk depending on size
Demonstration Video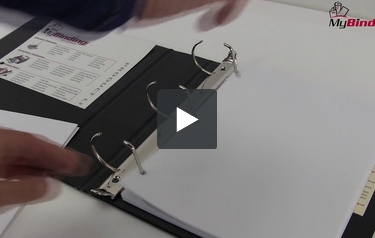 Transcript:
This is MyBinding video. Let's check out these 2 inch Premium Black D-Ring Clear Overlay View Binders. They're generic, they're black, they're straightforward, they're great value option for your presentations. There's 2 inside 4 1/2 extra deep pockets for holding loose sheets and the D-ring which is easier to use can handle up to 400 sheets, about 37% more than standard round ring binders. Clear overlay on the front allows you to display your cover and the whole thing is shrouded with an 11 gauge, opaque cover material. There it is, for more demos, reviews and how to's, check out MyBinding.co ...
Read More
This is MyBinding video. Let's check out these 2 inch Premium Black D-Ring Clear Overlay View Binders. They're generic, they're black, they're straightforward, they're great value option for your presentations. There's 2 inside 4 1/2 extra deep pockets for holding loose sheets and the D-ring which is easier to use can handle up to 400 sheets, about 37% more than standard round ring binders. Clear overlay on the front allows you to display your cover and the whole thing is shrouded with an 11 gauge, opaque cover material. There it is, for more demos, reviews and how to's, check out MyBinding.com
Sizing Guide
| | | | |
| --- | --- | --- | --- |
| Size | Part Number | Sheet Capacity | Quantity |
| 1" | DDRCV100BK | 250 Sheets | 12pk |
| 1.5" | DDRCV150BK | 375 Sheets | 12pk |
| 2" | DDRCV200BK | 480 Sheets | 12pk |
| 2.5" | DDRCV250BK | 100 Sheets | 12pk |
| 3" | DDRCV300BK | 600 Sheets | 12pk |
| 4" | DDRCV400BK | 750 Sheets | 6pk |