SEAL Jet Guard Heat-Activated Laminating Films
These SEAL Jet Guard Heat-Activated Laminating Films are designed to offer UV protection as well as high-impact color enhancements and sharper contrasts. They also provide protection against frequent handling and use in busy environments. To make sure that your printed media and displays look their best, choose one of the heat-activated laminating films listed on this page. We carry films with a thickness of 3 mil, 5 mil, 6 mil, and 10 mil. Here you can also find the most popular laminating film widths, including 25'', 38'', 43'', 51'', and 51''. Other options include gloss, matte, or lustre finishes. You can also buy a 15' long roll or the more cost-efficient 250' rolls.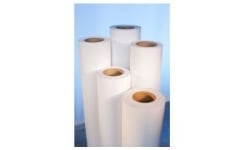 2 popular widths available
15' and 150' roll length
Features a uniform crystal texture that is durable and scratch resistant.
Creates a finish that reduces glare from reflected light.