Max EH-110F Flat Clinch Heavy Duty Electric Stapler
1479.60
NewCondition InStock
Max EH-110F Flat Clinch Heavy Duty Electric Stapler
Product Description
This Max EH-110F Flat Clinch Heavy Duty Electric Stapler can staple with precision up to 100 sheets and provides you with professional quality stapling. The Max EH-110F features an "Auto cutting staple legs" and "Flat Clinch" mechanisms that provides a beautiful stapling finish. This stapler has a "clear case" design that allows you to see the actual stapling position clearly from any angle. The EH-110F has an Auto & Manual stapling switch if you want to do manual or automatic stapling. It has a LED Indication Lamp that will help you know when you need to replace, clear or feed staples. The EH-110F stapler has an adjustable stapling depth that ranges from 1/8" to 7/8". Plus, it has a reusable staple cartridge that uses staple refills
No. 110FE
. One refill can staple 4000 times. Maximise your productivity with this Max EH-110F Flat Clinch Heavy Duty Electric Stapler.
Product Details
Auto and Manual Stapling Switch. It is possible to select between "Auto-stapling" and "Manual-stapling" using the selector switch.
Clear Case. Allows you to see the actual stapling position clearly from any angle.
LED Indication Lamp. Easily know when you need to replace/clear/feed staples by the color and flash of the LED indication lamps.
Adjustable Stapling Depth. Stapling depth has an adjustable range of approx. 1/8" to 7/8" (3 to 23mm).
User-friendly Paper Table. Wide paper table prevents papers from being dropped or bent. Guide lines help you staple at suitable positions end equal intervals.
Reusable Staple Cartridge Uses Staple Refills. New staple cartridge is reusable and you only need to replace staple refills No. 110FE. One refill can staple 4,000 times.
People Who Viewed Also Viewed
Item Specifications
Sheet Capacity: 2-100 Sheets (Depends on type and weight of the paper)
Stapling Speed: 2 staples per second (0.5 second per staple)
Throat Depth: Adjustable Approx. 1/8" to 7/8" (3 to 23mm)
Dimensions (W x D x H): 9 9/16" x 15 1/2" x 8 5/16" (242mm x 392mm x 210mm)
Weight: 16.76 lbs (7.6kg)
Power Source: AC100 - 240V, 50 - 60Hz
Usable Staple: MAX Staple refills No. 110FE (Comes with one free staple refill.)
Manufacturer's Warranty:1 year on parts and 90 Days on labor
Demonstration Video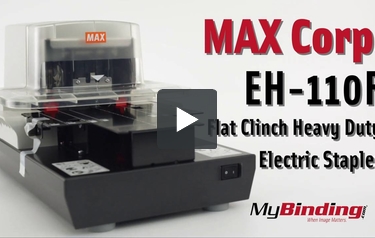 Max EH-110F Flat Clinch Heavy Duty Electric Stapler
Transcript:
Welcome to MyBinding.com. This is the EH-110F Flat Clinch Heavy Duty Electric Stapler from MAX Corp.

Get ready for one of the most powerful and easy to use high capacity staplers I've ever had the pleasure to use. MAX Corp. is known for heavy duty, long lasting equipment and this machine certainly raises the bar. The EH-110F can staple through 100 pages like butter and features "auto cutting staple legs" and "flat clinch" mechanisms to cut off the excess staple legs and leave a perfectly flat finish that won't catch.The top cover is made from clear plastic so you can clearly observe and mak ...
Read More
Welcome to MyBinding.com. This is the EH-110F Flat Clinch Heavy Duty Electric Stapler from MAX Corp.

Get ready for one of the most powerful and easy to use high capacity staplers I've ever had the pleasure to use. MAX Corp. is known for heavy duty, long lasting equipment and this machine certainly raises the bar. The EH-110F can staple through 100 pages like butter and features "auto cutting staple legs" and "flat clinch" mechanisms to cut off the excess staple legs and leave a perfectly flat finish that won't catch.The top cover is made from clear plastic so you can clearly observe and make sure you're stapling exactly where you want. On the paper platform there are guide lines for different sizes of paper and the set screws on the platform adjust the "throat depth", or the depth the stapling mechanism comes down the page. The top of the machine has an LED indicator to tell you when you need to refill staples or clear mashed staples in the unlikely event that it has a misfire. The switch on top toggles from automatic stapling when the red pressure sensitive tabs are depressed, to manual stapling when you press the button below. The backside has a door to access the reloadable staple cartridge, the waste tray and instructions are printed on the inside of the door. One roll of staples can staple 4,000 times, and when you need to refill, pick up a pack of the No. 110FE staples. For instructions on loading the cartridge, go check out the video under the staple refill page.

For more videos and all your binding needs, go to MyBinding.com