Black 11" Medium Powis Parker Fastback LX Strips - M101LX
59.49
NewCondition InStock
Black 11" Medium Powis Parker Fastback LX Strips - M101LX
Product Description
These medium black 11" Powis Parker Fastback LX binding strips are specifically designed for use with the Fastback 9 binding system. These particular LX strips are a Super Strip, a standard of strength and versatility. These medium black Powis Parker Fastback binding strips use the same thermal adhesive technology as Fastback's other binding strips--meaning you can count on quick and durable results. Measuring 11" in length, these medium strips have a capacity of 126-250 pages (1/2"-1"). Fastback LX strips are also available in narrow width and a variety of colors. The product number for these medium black 11" LX strips is M101LX.
Product Details
Strip Type: Fastback LX Strips
Length: 11"
Color: Black
Compatible With: Fastback 9 Binding Machine
Width: Medium
Capacity: 126-250 (1/2"-1")
Quantity: 1 Box (100 Strips)
Part Number: M101LX
People Who Viewed Also Viewed

Demonstration Video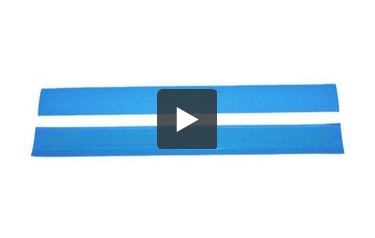 Transcript:
Welcome to Mybinding video, today we are looking at the Powis Parker Fastback 9. This is the anatomy of an LX binding strip. This is an example of what a narrow LX binding strip looks like when finished. With a narrow binding strip you can bind a book that is anywhere from 3 ? 125 pages in length (about a half inch). This is a gray narrow LX strip. Not to be confused with an LX comp strip which has more of a leatherette feel (such as this green one above). One side is the textured color, the other side are lines of adhesive. Within those lines of adhesive you will notice some patterns and not ...
Read More
Welcome to Mybinding video, today we are looking at the Powis Parker Fastback 9. This is the anatomy of an LX binding strip. This is an example of what a narrow LX binding strip looks like when finished. With a narrow binding strip you can bind a book that is anywhere from 3 ? 125 pages in length (about a half inch). This is a gray narrow LX strip. Not to be confused with an LX comp strip which has more of a leatherette feel (such as this green one above). One side is the textured color, the other side are lines of adhesive. Within those lines of adhesive you will notice some patterns and not in the center but towards the side if you pinch and squeeze you will make the fold in the binding strip. This is what you will need to do before placing it into the binding system. To assist you in learning how to properly fold and use binding strips within the Fastback 9 system be sure to check out our other videos at MyBinding.com
Sizing Guide
| Length | Size | Width | Capacity |
| --- | --- | --- | --- |
| 11" | Narrow | 1/2" | 10-125 pages |
| 11" | Medium | 1/2" - 1" | 126-250 pages |
| 11" | Wide | (1"-1.5") | 251-350 pages |