Coverbind Accel Ultra Automatic Thermal Binding Machine
9995
NewCondition InStock
Coverbind Accel Ultra Automatic Thermal Binding Machine
Product Description
The Coverbind Accel Ultra Automatic Thermal Binding Machine is the new ground breaker in document binding efficiency. Designed with the high-end user in mind, the Accel Ultra boasts twice the loading capacity and has cut processing time in half. This automatic thermal binding machine binds one document per second which is 45 times faster than punch & bind and 30 times faster than tape binding. Plus, it has a binding capacityof up to 150 sheets of 20lb paper. Its innovative Drop&Go Technology truly sets the machine from all others. By batch-feeding up to 50 documents into the machine, the operator is free to work in parallel. You simply Drop&Go! With its intuitive simplicity, ease of use, and binding speed, the Accel Ultra is ideal for users that bind large volumes of documents at once and the perfect solution for large print room or CRD environments.
Product Details
High capacity thermal binding.
Batch-load 50 documents at one time.
Up to 45 times faster than traditional methods.
Binds one document per second.
90 Day Warranty
Item Specifications
Document Size: 8.5" x 11" - portrait bound orientation
System Capacity: From 1 to 150 sheets of 20 lb. paper.
Processing Speed: Batch-load up to 50 documents at one time. Bind one document every second. Performance is subject to user environment.
Document Spine Widths: 1/16", 1/8", 1/4", 3/8", 1/2", 5/8"
Machine Dimensions: L 29.5" x W 25" x H 17"
Machine Weight: 106 lbs
Power Supply: 115V, 50/60Hz
Warranty: 90 Days
Old Part Number: 29170
New Part Number: 04CBACCELULTRA
Demonstration Video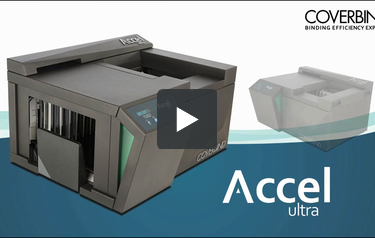 Coverbind Accel ULTRA Video
Transcript:
Accel Ultra

Step 1
Insert a set of papers to be bound into the automatic cover size selector.

The display will show the cover size to use.

Step 2
Place document pages in a coverbind cover, with the correct spine size, and align.

Step 3
Feed documents one at a time… or in batches.
Simply Drop&Go.
It's that easy.

Drop & Go Technology
No more wasting time at the machine.
The ultra signals when binding is complete.

Twice as fast as the previous generation
Better strength and quality for your documents

Easy to use
2x faster than the previous generation
Greater strengt ...
Read More
Accel UltraStep 1 Insert a set of papers to be bound into the automatic cover size selector.The display will show the cover size to use.Step 2 Place document pages in a coverbind cover, with the correct spine size, and align.Step 3 Feed documents one at a time… or in batches. Simply Drop&Go. It's that easy.Drop & Go Technology No more wasting time at the machine. The ultra signals when binding is complete.Twice as fast as the previous generation Better strength and quality for your documentsEasy to use 2x faster than the previous generation Greater strength and quality for your documents Offline thermal binding machine cuts binding time in half