Coverbind Accel Ultra Plus Automatic Thermal Binding Machine with Stand
11494.99
NewCondition InStock
Coverbind Accel Ultra Plus Automatic Thermal Binding Machine with Stand
Product Description
The Coverbind Accel Ultra Plus Automatic Thermal Binding Machine is the most efficient way to bind expanded spine sizes up to 1-1/2" thick. This thermal binder has a binding capacity of up to 720 printed pages on 20 lb. paper. The Accel Ultra Plus can bind one document every second, the same speed of the Accel Ultra but it has the ability to bind thick documents with the same ease and simplicity that Drop&Go Technology offers. With its enhanced capabilities, intuitive simplicity, and binding speed, the Accel Ultra+ is the perfect binding solution for office/corporate walk-up print stations, volume demanding CRD or commercial print environments.
Product Details
Binds thick documents.
Same speed as the Accel Ultra.
Bind one document every second.
The same ease and simplicity that Drop&Go Technology offers.
Included with your machine is the specially designed stand for optimum working height
90 Day Manufacturer's Warranty
Item Specifications
Document Size: 8.5" x 11" - portrait bound orientation
System Capacity: Up to 720 printed pages on 20 lb. paper.
Processing Speed: Performance is subject to user environment.
Document Spine Widths: 3/4", 1", 1 1/4", 1 1/2"
Machine Dimensions: L 29.5" x W 25" x H 17"
Manufacturer's Warranty: 90 Days
Machine Weight: 106 lbs
Power Supply: 115V, 50/60Hz
Demonstration Video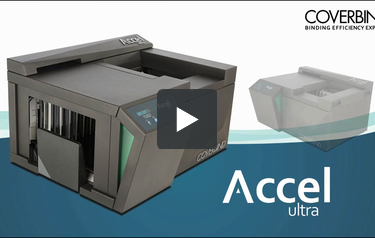 Coverbind Accel ULTRA Video
Transcript:
Accel Ultra

Step 1
Insert a set of papers to be bound into the automatic cover size selector.

The display will show the cover size to use.

Step 2
Place document pages in a coverbind cover, with the correct spine size, and align.

Step 3
Feed documents one at a time… or in batches.
Simply Drop&Go.
It's that easy.

Drop & Go Technology
No more wasting time at the machine.
The ultra signals when binding is complete.

Twice as fast as the previous generation
Better strength and quality for your documents

Easy to use
2x faster than the previous generation
Greater strengt ...
Read More
Accel UltraStep 1 Insert a set of papers to be bound into the automatic cover size selector.The display will show the cover size to use.Step 2 Place document pages in a coverbind cover, with the correct spine size, and align.Step 3 Feed documents one at a time… or in batches. Simply Drop&Go. It's that easy.Drop & Go Technology No more wasting time at the machine. The ultra signals when binding is complete.Twice as fast as the previous generation Better strength and quality for your documentsEasy to use 2x faster than the previous generation Greater strength and quality for your documents Offline thermal binding machine cuts binding time in half