What colors of plastic combs are available?
posted this on Jul 2, 2015
For a long time, plastic comb binding were available into only two colors: black and white. While this made it easy for people to decide which comb they would use to bind their work, it also meant that documents were missing that finishing touch. Unless your company logo is black and/or white, you couldn't choose a comb color that would complement it.
Luckily, that has changed and combs are now available in a number of different colors. MyBinding.com is proud to stock combs in the following colors: navy blue, maroon, brown, royal blue, red, green, gray, yellow, hunter green, and steel blue. We also carry clear plastic combs which pair nicely with clear binding covers. Our combs are generally available in diameters ranging from 3/16" to 2", so you can bind work that's up to 425 pages long. Most of the combs are 11" long so they can be used with letter-sized paper.
We also offer custom imprinting on our plastic combs. Imprinting allows you to display whatever you want on a comb: your company name, the title of your document, etc. If you're interested in ordering some custom combs, just let us know. We can be reached at 1-800-944-4573 and sales@mybinding.com. We are more than happy to offer you a free quote.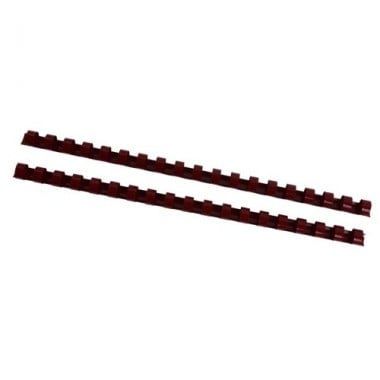 Related
Knowledgebase Articles
Can I bind documents longer than 11 inches with Comb Binding?
Most of the comb binding systems and supplies on the market are designed for binding letter sized documents. Sometimes, though, I occasionally have customers call and ask if there is a way to comb bind documents that are longer than 11". Binding these documents is possible with many of the ... (Read More)
Can I use wire with my comb binding machine?
Christopher Pitts Jun 24, 2015
Over the years, a number of customers have asked me whether they can use twin loop wire with their plastic comb binding machine. These customers often don't want to have to buy a brand new machine but like the look and feel of twin loop wire binding. However, the answer to their question ... (Read More)
What features should I look for in a comb binding machine?
If you're looking for a good comb binding machine, you're probably wondering how you can choose one that will fit your needs. The good news is that it's pretty easy to do. You just need to do a little bit of research and consider the following things: Punching capacity.&... (Read More)
How to Use a Comb Binding Machine
Christopher Pitts Jul 1, 2015
Plastic comb binding, also called GBC binding, is the most common of the punch and bind styles. It is a relatively easy process and is basically the same for most all manual comb binding machines. Electric comb binding machines are similar, but simply have push button controls rather th... (Read More)