How can I make a spiral notebook without a machine?
posted this on Jul 7, 2015
Who needs an expensive binding machine? If you are doing a small number of documents, you can easily get away with doing the binding by hand. Here are a few tips on how to make a spiral bound book without a machine.
1. Why Spiral Coil? The first thing you will have to decide when you are doing your own machineless spiral coil binding is if spiral coil is truly the way you want to go. Spiral coil has a lot of advantages, such as the books you bind in this style can wrap around completely, which is great for functionality. These types of books are also very durable, utilizing as they do (in most cases) four holes per inch of paper, with a spine that winds through all of the pages. This help to ensure that pages won't tear from your documents, and if you add a laminated cover and or pages, you are looking at a booklet that will stand the test of time and that can be handled by a lot of people and stay together. This is why you often see large and busy restaurants using the spiral coil system for their menus.
2. What Type Of Coil? In general, you will have much better luck using plastic coils rather than the metal types that you often see in school notebooks. When you start looking around at different spines, you will notice that there are a few different types out there. For one, there is the standard plastic coil that wither can be inserted by hand or by a machine. If you go this route, make note that you will be a lot more successful if you purchase some crimping pliers to make sure that your spine stays put. Winding the spine by hand is certainly doable, but if you value your sanity, you don't want to find yourself hand-winding a large number of books. GBC makes what is called the Proclick spine, which can be found in several different colors and sizes, and importantly, can be easily reopened and closed if you need to take pages out and replace them. GBC also provides a system they call ZipBind, which are fairly similar to ProClick in that they are also easily editable. Last but not least, there is a company called Komtrak that makes what they call the Inspiral Info-Bind that easily winds through properly punched paper and features a plastic clip that goes in the end of the coil binding spine and makes sure that the spine stays in place and makes the booklet easily editable as well.
3. What Kind of Paper? If you are truly committed to machineless binding, you will have to find paper that has already been punched in the style of binding that you have chosen. If you are using a standard size coil, you will want to order paper that had been punched in a 4:1 pitch ratio. This is what you will find the most readily available, and you may even be able to find reams of this type of paper at your local office supply store. Some of the other styles mentioned above use paper that has been punched in different, sometimes proprietary styles. Just make sure that your hole pattern matches the pine you are using, and the rest is cake.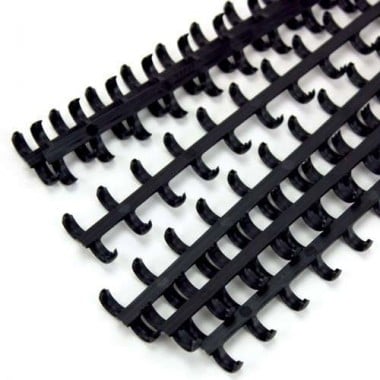 Related
Knowledgebase Articles
How do I bind a document using spiral coil binding?
Spiral coil binding (also known as Color coil or plastic coil binding) is one of the most popular and fastest growing of all coil binding styles. Documents bound with spiral coils lay flat and the pages can turn 360 degrees around the flexible PVC coil spine. Coil binding is fast and easy an... (Read More)
Do you have a glossary of coil binding terms?
Coil binding is a popular document finishing method that can be used for reports, proposals, anthologies, and more. In order to bind with coils, it's usually necessary to use a coil binding machine. There is a lot of terminology associated with these machines, so it's a good idea to b... (Read More)
What features should I look for in a spiral coil inserter?
If you are looking for a spiral coil inserter to use in your office or print shop and don't know where to start, don't worry. This will help you better understand the different coil inserters that are available on the market so that you can better make your decision. Num... (Read More)
How do I bind large documents with Color Coils?
If you have ever attempted to bind a book using a large sized color coil binding (30mm and larger), you will understand just how frustrating the process can be. For smaller sized book binding, you can easily use your coil binding inserter to quickly spin the coil binding onto your docum... (Read More)