What should I look for in a personal shredder?
posted this on Jul 22, 2015
Trying to find just the right personal shredder for your needs can be a little bit stressful. To make it easier for you, we made a list of the three main features to keep an eye out for when you are shopping for a desk side shredder.
1. Security. Just because you are looking for a smaller shredder does not mean that you have to scrimp on security. Any and all of your documents that contain the sort of information that could led to fraud or ID theft were they to end up in the wrong hands should be shredded in a cross cut pattern (resembling confetti). Shredders that employ a strip cut system are becoming less and less the norm, but they are still out there. Strip cutting leaves papers in a state that makes it easier for criminals to piece documents back together and get information such as account and social security numbers from them.
If you are in business for yourself, shredding in a cross cut pattern is much more than a good suggestion. The government passed laws a few years ago that mandate certain customer and employee documents be shredded in a cross cut pattern when they are being discarded. Not doing so can lead to fines and even lawsuits on behalf of those whose information was misused. The thing to look for is the "Security Level" of the shredder that you are considering purchasing. A security level of 3 (or above) is what is required by the new laws.
2. Capacity. Since you are looking for a shredder to place at the side of your desk and use on an as-needed basis, such things as sheet capacity may not be huge considerations. Still, you need to keep in mind that most smaller shredders should be used intermittently, meaning that you really shouldn't let your papers pile up and try to shred them all at one time. Desk side shredders in general have only a certain amount of time that they can be used before they will require a period of rest. This keeps the motor from overheating and becoming seriously damaged. Just make a habit of shredding on an as-needed basis, and you should be fine.
As far as how many sheets you can place into your personal shredder at once, there is a little bit of variance from machine to machine, but in this day and age, you probably shouldn't settle for a shredder that can handle less than 6 to 8 sheets at a time, handles staples and paper clips, and even credit cards, as that capability is becoming more and more common.
3. The Little Things. It's important to note that the vast majority of personal shredders have feed openings of about 9 inches. This will accommodate the most common paper sizes without a problem, but if you regularly need to shred documents that are larger than legal or letter size, you may need to do some searching around. Also keep in mind that shredders need to be oiled periodically, so when you buy your shredder, pick up some oil as well. Oiling your shredder keeps it at optimal function, and helps prevent damage to the cutting heads. To oil your shredder, just squirt a "Z" pattern of oil onto a normal sheet of paper, and run it through the machine.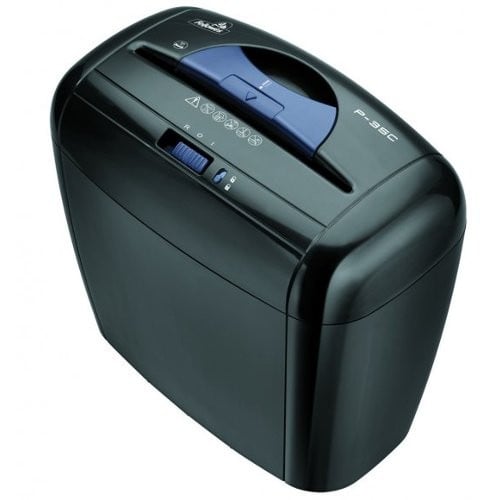 Related
Knowledgebase Articles
Can I use wire with my comb binding machine?
posted this on Jul 22, 2015
< Over the years, a number of customers have asked me whether they can use twin loop wire with their plastic comb binding machine. These customers often don't want to have to buy a brand new machine but like the look and feel of twin loop wire binding. However, the answer to their question isn't as simple as it seems. You see, they actually do make twin loop wire that is designed to work with the plastic comb binding hole pattern. With that said, if you want to use these wires you are going to need a way to close the wires. What is Spiral-O Wire?Let me explain a little bit more…There is a product that we carry called Spiral-O Wire. This wire has 19 loops and is designed to work with the hole pattern from a plastic comb binding machine. Spiral-O Wire is sometimes called Wire Combs or Ibico Wire and was originally designed for use with some of the older Ibico binding machines. A number of the older Ibico plastic comb binding machines also included a twin loop wire closer on the front of them to allow users to use both plastic combs and wire. This 19 loop wire was designed for this purpose.What Equipment is Needed? As the Ibico brand has been phased out by GBC and all of the older Ibico plastic binding machines have been replaced with new models, they no longer have the twin loop wire closer on the front of them. This presents a problem in trying to use these spiral-o wires since you can't use the wires without a way to close them.One of the only options left is to purchase a Twin Loop wire closer. However, since twin loop wire closers are not incredibly cheap this option usually only appeals to users who have larger electric plastic comb binding machines. Otherwise, it is often advisable to simply buy a low end 3:1 pitch twin loop wire binding machine (the supplies are cheaper). This being said, if you have one of the older Ibico binding machines that has a wire closer included you are in luck. The Spiral-O binding supplies that we carry will work perfectly with your machine and you will be able to use both plastic combs and wire depending on your needs. These Spiral-O binding supplies are available in Black, Silver, White, Blue and Red and in sizes up to 1″ in diameter.If you aren't sure what type of wire binding supplies that you need to work with your machine simply give us a call. Our trained sales representatives will be glad to help you find the correct supplies for use with your machine.(Read More)