What should I know about Sheet Protectors?
Sheet protectors are a great way to protect and preserve documents. They can showcase a report or keep recipes safe from food splatters. But when you go to purchase them, the choices seem endless. Multiple sizes and finish options as well as various weights- what does it all mean? Here we will decode the box and give you clear ways to choose the right sheet protector for you.
Size. One of the first things you'll need to determine is what size you'll be using. While most page protectors come in a generic letter size, the options can range from very small up to 13″ by 13″ for scrapbook pages and other larger items. Standard sizes include half letter (5.5″ by 8.5″), letter, and legal. Legal sized protectors come in both three- and four-hole styles, so make sure you know which type binder you'll be using. Less common is an A4 size as well as other custom sizes.
Weight.Page protectors come in four basic weights.

Super Heavyweight is great for maximum durability. You'll want to use these with frequently used items, such as recipes in a kitchen or weekly cleaning checklists.
Heavyweight is also extra durable and works well for long term storage of oft used documents.
Standard weight offers sturdy storage for general documents and less frequently used reference materials.
Economy weight is the lightest, providing an extra thin covering good for longer documents or rarely used materials.

Loading Style.

Top loading sheet protectors are the most common. These are completely sealed on three edges with the top one left open for pages to easily slide in. They offer good protection and paper doesn't generally need to be punched. However, pages can fall out if the binder is turned upside down. Avery makes a secure top sheet that loads from the top but has a flap to secure the page even if the binder is flipped.
Side loading sheets are also sealed on three sides but documents stay secure if the notebook isn't straight. Some side loading sheets require the page to be punched.
Rapid or quick-loading protectors offer the quickest insertion and removal. The corner peels back, allowing a page to be placed quickly. While this is less protection and not very secure, it is the fastest option and works well for frequently changing applications.

Finish.

Clear gives a crisply transparent finish. It is also referred to as diamond clear, crystal clear, and other sharply clear terms.
Non-glare materials eradicate glare by the addition of resins, which absorb some of the light. It is good for harsh lighting and also hides fingerprints.
Reduced-glare gets rid of most glare but don't contain resins. Glare is reduced by the addition of patterns on the plastic. It works best in medium to bright lighting.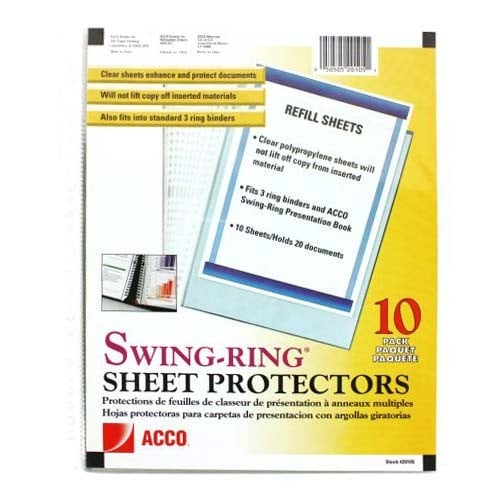 Related
Knowledgebase Articles
Can I use wire with my comb binding machine?
Krish Technologies posted this on Jul 14, 2015
< Over the years, a number of customers have asked me whether they can use twin loop wire with their plastic comb binding machine. These customers often don't want to have to buy a brand new machine but like the look and feel of twin loop wire binding. However, the answer to their question isn't as simple as it seems. You see, they actually do make twin loop wire that is designed to work with the plastic comb binding hole pattern. With that said, if you want to use these wires you are going to need a way to close the wires. What is Spiral-O Wire? Let me explain a little bit more…There is a product that we carry called Spiral-O Wire. This wire has 19 loops and is designed to work with the hole pattern from a plastic comb binding machine. Spiral-O Wire is sometimes called Wire Combs or Ibico Wire and was originally designed for use with some of the older Ibico binding machines. A number of the older Ibico plastic comb binding machines also included a twin loop wire closer on the front of them to allow users to use both plastic combs and wire. This 19 loop wire was designed for this purpose. What Equipment is Needed? As the Ibico brand has been phased out by GBC and all of the older Ibico plastic binding machines have been replaced with new models, they no longer have the twin loop wire closer on the front of them. This presents a problem in trying to use these spiral-o wires since you can't use the wires without a way to close them. One of the only options left is to purchase a Twin Loop wire closer. However, since twin loop wire closers are not incredibly cheap this option usually only appeals to users who have larger electric plastic comb binding machines. Otherwise, it is often advisable to simply buy a low end 3:1 pitch twin loop wire binding machine (the supplies are cheaper). This being said, if you have one of the older Ibico binding machines that has a wire closer included you are in luck. The Spiral-O binding supplies that we carry will work perfectly with your machine and you will be able to use both plastic combs and wire depending on your needs. These Spiral-O binding supplies are available in Black, Silver, White, Blue and Red and in sizes up to 1″ in diameter. If you aren't sure what type of wire binding supplies that you need to work with your machine simply give us a call. Our trained sales representatives will be glad to help you find the correct supplies for use with your machine.(Read More)