What are some quick tips for fixing my roll laminator?
If you have a roll laminator you know just how great it can be for laminating signs, banners, presentation covers, visual aids and document. However, there is nothing quite as frustrating as trying to troubleshoot problems with your laminated documents. Perhaps your laminate is coming out cloudy (silvered), wavy, with air bubbles, curled or with small unlaminated spots. All of these problems have different causes. However, here are a few things that you should consider when troubleshooting your laminator.
Heat: If you have too much heat you will notice that the laminate is wavy. If you don't have enough heat or the heat is inconsistent you will get silvering or cloudiness throughout your document. If this happens you will need to adjust the heat either up or down to compensate. You may also need to give your laminator enough time to recover heat after a long run of laminating since the temperature of the rollers will drop as heat is transferred to your documents.
Speed: If the speed is too fast, then not enough heat will be transferred and you will get silvering in your documents. If the speed is too slow, then too much heat will be transferred and you will get waviness in your documents. Ultimately, you will need to find a balance between heat and speed. If your laminator does not have a heat setting, you will need to adjust the speed. Likewise if there is no speed setting you will need to adjust the heat. If you have both then you can attempt to adjust both to find the right setting for the type of paper that you are laminating.
Tension: Something that is a little bit harder to deal with on a roll laminator is the tension. The tension setting determines how tight the laminate is stretched as it comes off the laminator. Generally, you should not mess with the tension settings on your laminator. However, if you notice that you are getting excessive curling, cupping or air bubbles in your laminated output, you may need to tweak the tension. Just remember that the tension on both rollers should always be set the same if you are running the same type of film on both sides.
Dust: Small particles of dust on your documents and photos can cause your laminated documents to look speckled. In order to fix this you will need to remove the dust before you run your prints. There is a special tool called a PCR roller that is designed for this purpose. A PCR roller will remove dust from your printed output without damaging the surface of the prints.
Adhesive Buildup: If you have small dots or sections on your laminated output that are not laminating you will need to check your rollers. Rollers that are damaged, cracked or have adhesive buildup may not transfer heat equally. Every place where the roller touches the laminate and there is adhesive buildup or a gouge in the roller you will end up with an unlaminated spot. The only way to deal with this problem is to clean or replace the rollers on your laminator.
Toner Adhesion: Many types of laminating film will not adhere well to digital output with high fuser oil content. If you are having this problem, you may notice that the laminate will easily peel off your finished documents when face trimmed. If you are using this type of digital output you may need to look into using a high tack laminating film. Hi-tack laminating films use a more aggressive adhesive to ensure adhesion to this type of coated output.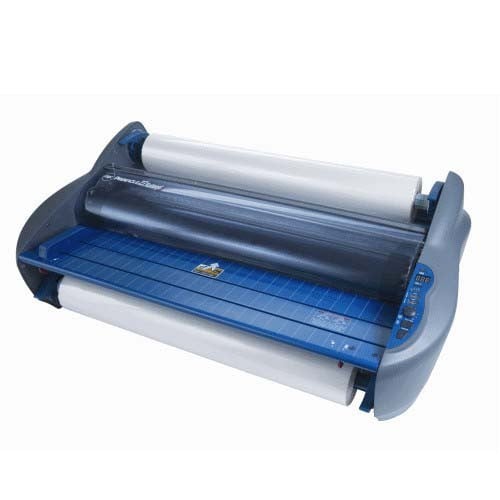 Related
Knowledgebase Articles
Can I use wire with my comb binding machine?
Krish Technologies posted this on Jul 8, 2015
< Over the years, a number of customers have asked me whether they can use twin loop wire with their plastic comb binding machine. These customers often don't want to have to buy a brand new machine but like the look and feel of twin loop wire binding. However, the answer to their question isn't as simple as it seems. You see, they actually do make twin loop wire that is designed to work with the plastic comb binding hole pattern. With that said, if you want to use these wires you are going to need a way to close the wires. What is Spiral-O Wire? Let me explain a little bit more…There is a product that we carry called Spiral-O Wire. This wire has 19 loops and is designed to work with the hole pattern from a plastic comb binding machine. Spiral-O Wire is sometimes called Wire Combs or Ibico Wire and was originally designed for use with some of the older Ibico binding machines. A number of the older Ibico plastic comb binding machines also included a twin loop wire closer on the front of them to allow users to use both plastic combs and wire. This 19 loop wire was designed for this purpose. What Equipment is Needed? As the Ibico brand has been phased out by GBC and all of the older Ibico plastic binding machines have been replaced with new models, they no longer have the twin loop wire closer on the front of them. This presents a problem in trying to use these spiral-o wires since you can't use the wires without a way to close them. One of the only options left is to purchase a Twin Loop wire closer. However, since twin loop wire closers are not incredibly cheap this option usually only appeals to users who have larger electric plastic comb binding machines. Otherwise, it is often advisable to simply buy a low end 3:1 pitch twin loop wire binding machine (the supplies are cheaper). This being said, if you have one of the older Ibico binding machines that has a wire closer included you are in luck. The Spiral-O binding supplies that we carry will work perfectly with your machine and you will be able to use both plastic combs and wire depending on your needs. These Spiral-O binding supplies are available in Black, Silver, White, Blue and Red and in sizes up to 1″ in diameter. If you aren't sure what type of wire binding supplies that you need to work with your machine simply give us a call. Our trained sales representatives will be glad to help you find the correct supplies for use with your machine.(Read More)