What are some uses for my Rotary Trimmer?
When it comes to cutting tools, you have a lot of different options. Scissors are always apopular choice, especially if you need something that's portable and easy to use. Guillotine cutters are ideal for schools and print shops. And a straight edge and craft knife can give you good results but you need to be careful when using them. One of the best types of cutting tools is the rotary trimmer. This type of device features a cutting board and an encased blade that slides along a rail so you can cut perfectly straight lines. These cutters are easy to use and they're also pretty safe. They can also be used for a lot of different projects. That said, here are three uses for rotary trimmers:
1.) Trimming laminated documents. If you have a lot of important documents that you need to keep in good shape, laminating them is a terrific idea. This will protect them from spills, rips, and so on. It will also prevent the documents from becoming yellowed. Whether you use a pouch or roll laminator, you may end up with excess film surrounding your paper. This can be easily fixed by using a rotary trimmer. It will trim the excess away quickly and cleanly so your work will look great for years.
2.) Working with photographs. Photography is a great hobby and although digital cameras have conquered the market, pictures are still occasionally printed on photo paper. If you're working with photographs and you need to crop an image, a rotary trimmer is what you should use. It will give you a clean cut and it eliminates the need for dangerous craft knives. These cutters are available in a lot of different sizes, so you'll be able to crop both small and large prints. This will help you get your photos ready for exhibitions, sales, and storage in albums.
3.) Scrapbooking. There are a lot of popular crafts such as rubber stamping, knitting, and so on. However, scrapbooking is arguably the most popular and with good reason. Scrapbooks are fun to create and you can personalize them as much as you want with different types of paper, stickers, pictures, and more. However, you need a lot of supplies for scrapbooking including a good cutting tool. A rotary trimmer will definitely get the job done and will help make your scrapbook look like it was put together by a professional. Some of the rotary trimmers that are currently available even have interchangeable blades so you can create wavy edges. This can also come in handy for other crafts such as making greeting cards.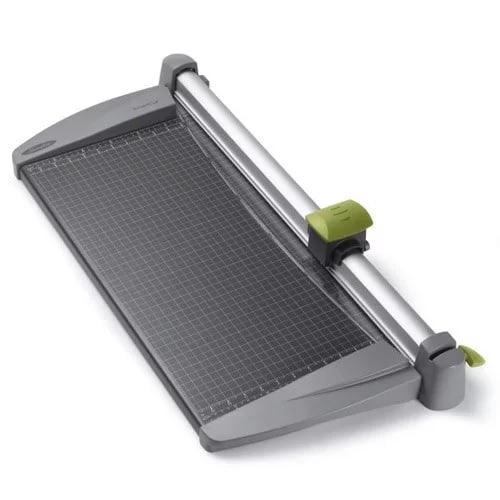 Related
Knowledgebase Articles
Can I use wire with my comb binding machine?
Krish Technologies posted this on Jul 22, 2015
< Over the years, a number of customers have asked me whether they can use twin loop wire with their plastic comb binding machine. These customers often don't want to have to buy a brand new machine but like the look and feel of twin loop wire binding. However, the answer to their question isn't as simple as it seems. You see, they actually do make twin loop wire that is designed to work with the plastic comb binding hole pattern. With that said, if you want to use these wires you are going to need a way to close the wires. What is Spiral-O Wire? Let me explain a little bit more…There is a product that we carry called Spiral-O Wire. This wire has 19 loops and is designed to work with the hole pattern from a plastic comb binding machine. Spiral-O Wire is sometimes called Wire Combs or Ibico Wire and was originally designed for use with some of the older Ibico binding machines. A number of the older Ibico plastic comb binding machines also included a twin loop wire closer on the front of them to allow users to use both plastic combs and wire. This 19 loop wire was designed for this purpose. What Equipment is Needed? As the Ibico brand has been phased out by GBC and all of the older Ibico plastic binding machines have been replaced with new models, they no longer have the twin loop wire closer on the front of them. This presents a problem in trying to use these spiral-o wires since you can't use the wires without a way to close them. One of the only options left is to purchase a Twin Loop wire closer. However, since twin loop wire closers are not incredibly cheap this option usually only appeals to users who have larger electric plastic comb binding machines. Otherwise, it is often advisable to simply buy a low end 3:1 pitch twin loop wire binding machine (the supplies are cheaper). This being said, if you have one of the older Ibico binding machines that has a wire closer included you are in luck. The Spiral-O binding supplies that we carry will work perfectly with your machine and you will be able to use both plastic combs and wire depending on your needs. These Spiral-O binding supplies are available in Black, Silver, White, Blue and Red and in sizes up to 1″ in diameter. If you aren't sure what type of wire binding supplies that you need to work with your machine simply give us a call. Our trained sales representatives will be glad to help you find the correct supplies for use with your machine.(Read More)