What should I know about Twin Loop Wire Binding?
posted this on Jul 6, 2015
Choosing the right binding system to represent the image of your organization can be difficult. There are many different binding styles available to choose from. You may have seen plastic comb binding, spiral coil binding, thermal binding or even Velobind. All of these binding styles have a unique look and feel that may be right for your company. However, twin loop wire binding (also called wire-o or double loop wire binding) boasts several unique features that help to set it apart as a superior choice for binding your documents.
Professional Appearance: Wire-O binding offers a neat and tidy appearance that is more elegant than any other binding style on the market. The thin coated steel wire offers the
ultimate professional look and feel for your reports, presentations and proposals. This professional appearance makes twin loop wire binding a favorite for financial services companies, real estate professionals, architects and engineers.
Two punching patterns

. Twin-loop devices are classified by which pitch (punching pattern) they produce. The two that are available for this method are 3:1 and 2:1. The numbers refer to how many holes there are per inch of paper. Pitch will also somewhat designate how long your documents can be. For example, 2:1 pitch is ideal for longer books because 2:1 wires are available in thicknesses up to 1.25″, and they can secure anywhere from 125 to 250 pages. Meanwhile, 3:1 wires are the best for shorter documents because they can bind between 20 and 110 pages.

360 Degree Wrap: One of the great things about twin loop wire binding is that it offers a full 360 degree rotation for pages bound into your documents. This means that pages from the front of the document can be wrapped around to the back of the document. This feature makes twin loop wire binding a popular option for binding calendars and notebooks. Calendars are often bound with twin loop wire binding and a special calendar hanger to allow you to comfortably hang the calendar on the wall.
Variety: Twin loop wire binding spines are available in a number of different sizes and colors to match the color of your company logo or report covers. Wire-O spines are available in thirteen different colors including: black, white, silver, blue, bronze, gray, green, red, navy blue, yellow, dark green, cream and gold. Elements are also available in a number of sizes starting at 3/16" for documents that are as thin as just a few pages and up to 1-1/2" for extremely thick documents. Although wire is available in all of these sizes, in order to bind documents with all of the sizes of wire, you have to have a dual format wire binding machine or use special 2:1 pitch small size wire binding spines.
Temperature Resistant: With plastic comb binding, spiral coil binding and thermal binding, temperature extremes can damage the binding spine of documents. Temperature has very little effect on wire-o bound documents. The steel spines used in double loop wire binding do not become brittle when exposed to extremely cold temperatures and do not become deformed or soft when exposed to extremely hot temperatures.
First-rate machines

. Some of the biggest names in the office machine world make twin-loop binders including Fellowes, James Burns, Akiles, Renz, and Rhin-O-Tuff. For small offices that need a machine for occasional use, a device such as the Fellowes Quasar 130 or the Akiles OffiWire are great options. For organizations that need a machine capable of operating on a heavy-duty basis, something like the Renz Eco C is ideal. Also, both manual and electric machines are available, so you can find one that fits your budget as well as your bookbinding needs.

A wide variety of uses

. Twin-loop wire binding is a pretty versatile document finishing method that can be used for a lot of different items. You can make your own calendars with this type of device, as well as journals and yearbooks. Professional documents really benefit from this type of binding and it can be used for brochures, reports, marketing materials, legal briefs, and more.
Twin-loop wire binding is the method you should choose when looks matter. When you use this this type of document finishing, you're taking the first step towards a more professional image, so get started today.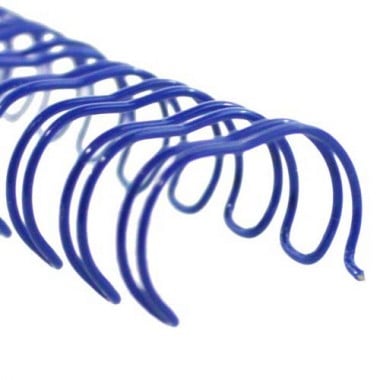 Related
Knowledgebase Articles
How do I bind a document using Wire-O binding?
If you are looking for a highly professional and elegant binding style, you might be considering twin loop wire binding (also called wire-o, double loop or double-o binding). This binding style uses a piece of coated steel wire that is bent into a c-shape to provide an excellent and professi... (Read More)
Can I use Spiral-O Wire with my Comb Binding Machine?
Over the years, a number of customers have asked me whether they can use twin loop wire with their plastic comb binding machine. These customers often don't want to have to buy a brand new machine but they like the look and feel of twin loop wire binding. The answer&nbsp... (Read More)
How do I choose the right Twin Loop Wire Binding Machine?
Twin loop wire (also known as Wire-O) binding provides an exceptionally elegant and professional looking solution for report and proposal binding. Perhaps you have seen proposals that have been bound with a wire binding machine and would like to try wire binding in your office. This article ... (Read More)
How do I bind a document using Spiral-O Wire?
Spiral-O wire binding supplies are designed for a very specific set of applications. Users of Spiralo wire binding usually fall into one of two categories. Some users have an older Ibico comb binding machine with a wire closer built in. These machines were designed for use wit... (Read More)
How do I create a calendar?
Have you ever seen a calendar bound with twin loop wire with a small half moon punch out and a calendar hanger to hang it on the wall? Now it is possible for you to create your own calendars just like this. All you need is twin loop wire binding machines, some&... (Read More)